Successful Blog Highlight: Lady Antebellum
Lady Antebellum is one of my favorite bands.
Just a few years back the band was new on the country music scene. I remember seeing the trio perform at a local festival. They were in the 3pm or possible even 5pm set that day. If you know music, you know the best artists are always scheduled late in the day.
Even though they were playing in the early time slot, Lady Antebellum drew a huge crowd. People came out from the shade and stood near their chairs in the field. As the music continued people started dancing around, singing, and really getting into the show. It's easy to look back now and realize that this band had something special.
Today, Lady Antebellum is the biggest band in country music. They've had million selling records and singles and their star is only growing bigger and brighter.
But this is a blog about content marketing and I'd like to highlight why I think Lady Antebellum is not only the best in their business at music, but also the best at online content marketing.
Lady Antebellum Marketing Strategy
Now, the main focus on Lady Antebellum's career is putting out good songs. There is no doubt that everything else is secondary to the music. But having a solid online marketing strategy doesn't hurt in today's world of connected individuals. Being able to take your music to as many people as possible is something today's artists realize is necessary to become superstars.
Lady Antebellum News Blog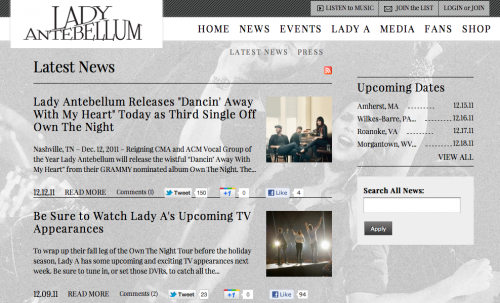 Lady Antebellum has succeeding in their online marketing efforts and after their music I believe their blogging strategy is one of the most important aspects of their success.
But what is it about their blog that is so successful?
Frequency
Check out the Lady Antebellum News section on their website. It's a news section, which is similar, if not the same, as a blog. New content is posted every couple days and sometimes even more frequently. Lady A and their support staff realize that their fans are eager to be engaged with the band. Fans demand as much information as the band members are willing to share and the news section is where fans go to get this exclusive content.
Frequency can be a balancing act for businesses. You don't want to overwhelm your audience, but you don't want to leave them feeling let down. If they are let down they'll go to the next source of information that is more reliable.
I'm a firm believer in high frequency blogging. Now, high frequency means posting probably multiple times each week at minimum. I don't think this is overload for your core audience in anyway.
Think about old school newspapers. Most people have, in the past, subscribed to their local newspaper. These papers were filled with relevant news each day. If you think about it, there is a lot of content in those newspapers and people were able to read those with no issue.
I don't think a blog has to go to the level of a newspaper, but think about posting weekly or multiple times each week. Your customers probably demand this type of frequency.
Photos
Something else you'll notice on Lady A's blog is the use of great photographs (something I've discussed). The band is scene on stage, backstage, and on their bus. There are great photographs taken by professional photographers. The photos provide visuals for fans to see and experience. For the fans that cannot be with the band every step of the way, photography provides a great way for fans to really experience the life of their heroes.
Lady Antebellum in Concert
Photos great a deeper level of engagement and that leads to more passionate, long-term customers.
In-Demand Information
Finally, Lady A posts in-demand information.
Earlier, I mentioned that Lady A's fans are craving for information about the band. These fans are anxious to hear about new music, new tour stops, and any other information about what the band is doing in the future.
A news section is great for a band because it provides the information fans really want.
This is easy to point out for a band, but it is something you can do with your business as well. Think about the information your customers really want and need. They might not realize they need it, but think about their problems and desires and address those with your company and share the news on your company blog.
It's a great way to please people and turn them into customers.
Summary
Lady Antebellum is hugely successful with their music.
But the band is doing something even their most successful peers are doing. Lady Antebellum has a great online marketing strategy and I believe it starts with great music and their ability to share relevant news with their fans.
Lady Antebellum has one of the best blogs in country music and it's worth following their lead with similar blogging strategies in other industries.