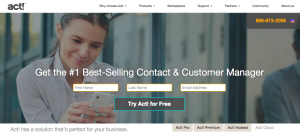 Act! is a business software aimed at helping small businesses improve communication with customers and prospects. I found them when I saw their parent company, Swiftpage mentioned. I actually think it's just the same company with Act! being the main product right now.
The solution seems to give users a full view of all their communication with those they're doing business with. So it sounds like it's a complete communication platform for the entire lifetime of a business relationship.
As a small business owner, I know this is valuable. I've been lax on really digging in and taking full advantage of all that's available for cultivating better client relations and prospecting as well.
I'll have to look into Act! more to see the potential there, but today I wanted to look at what they're doing with their blog. We've worked with a few companies that target small businesses and that are in the SaaS world and it's usually a very good area for a business blog.
Let's look at the Act! Blog.
1. Short Or Long Posts?
Our most common type of blog post with our clients is a 600-800 word post. We just kind of fell into that sweet spot after reading blogs for a number of years and writing blogs and seeing what people responded to.
There are a few variables, but in general that word count range seems to be a sweet spot. There are certainly successful articles over 2,000 words. And shorter posts can work too. I get valuable information on Twitter all the time and that's only 140 characters.
But short posts can be difficult. I see that Act! has tried a few of them mixed in with some longer posts and I think that's good. Short posts can work well especially if you're promoting some other type of content you've created like a deck on SlideShare or a video on YouTube.
Mix those in with longer posts and it should be just fine.
2. Blog Design: Content Width
We talk about blog content all the time here in the Blog Analysis Series, but the design of the blog can be just as important. You want people to really not even think about your design when they're reading a blog post. You want it to flow naturally.
One kind of general guideline or best practice is to not have a super wide blog area. I think the one on GBW is about 800px and that's probably the max you really want to go with your blog posts.
When you think about most publications they're not very wide. Novels are wide. Newspapers are really short and even magazines break content into multiple columns. It's easier to read.
I just happen to see that Act!'s posts are a little wider than you might normally see, but it can be a quick fix.
3. Mentioning Your Product
In this post, Act! kind of weaves in their product with an issue that their readers have. The productivity of a businessperson is incredibly important. If salespeople have more time they can close more deals. And if account managers can be more efficient they can handle more clients. It all helps the company's bottom line and the bottom line of the individual too.
It's hard to weave in mentions of your own brand, but I think Act! does a good job. There are a couple schools of thought on this with some companies opting to really focus on answering a question a reader has about the industry and not really mentioning their brand. And other company's want to mention their brand in every post.
I would say we lean toward the first option, but you know I mention GBW here in the posts from time to time too so there is room for both strategies.
4. Multiple Authors
I haven't mentioned this one before in the blog analysis series, but I see it once in a while. Some businesses have multiple people writing blog posts. This is a great way to add more valuable content to a business blog.
Blogging is often more challenging than initially thought. It takes time to brainstorm ideas, research material and then do the writing. And it's difficult to follow a set schedule.
A good way to spread out the effort is to have multiple people handle the tasks. Each person could be responsible for one post on a specific day of the month. They could also write about specific topics. That's how it works with other publications like newspapers and magazines.
You can do the same with people in your organizations as well as with partners. At Ghost Blog Writers, we often supplement the blogging a company is already doing with specific types of posts on specific days each month.
5. Organizing Your Business Blog
A quick note on organizing your business blog. from what I see, Act! has a parent company and that's not uncommon. You often see a company that has multiple products and brands. I think it can work to separate those brands with different sites and things like that.
When it comes to the blog, it's best to look at each of the brands individually. One thing you need to be careful of when you have multiple brands is duplicate content. It's valuable to readers if you have separate blogs for each of your brands or if you focus your resources on one blog for one brand and then to not have blogs for the other brands.
You don't really want to have the same content on two domains or multiple URLs. It looks like Act! has that right now (blog.swiftpage.com and blog.act.com), but it's an easy change to focus all the efforts on one URL.
Final Thoughts
Act! has a good business blog going on. It's active right now and they're posing about 2-4 times per month. I think they could probably add a few more posts to the schedule each month and publish them on a regular schedule, but those are small suggestions. They're looking to help potential clients with real business problems and that's where a business blog works best.
It's a good model to learn from if you're looking to start your business blog.