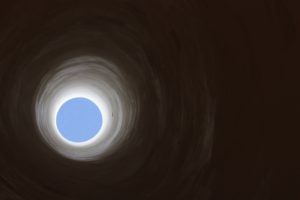 At some point, probably in the 1970s, Michael Jackson developed a goal.
To be the #1 Pop Star in the world.
I think it seemed to really develop around 1980, which was after his breakout solo album, Off The Wall, was released. It did very well, but not as well as Michael had hoped and he saw potential to reach greater heights.
He started making every decision with his goal in mind. Anything that didn't get him closer to the goal was thrown aside and anything that would help was considered and often used.
The result was Thriller. The best-selling studio album of all-time and it made Michael arguably the biggest pop star ever other than perhaps the Beatles.
Big Hairy Audacious Goals
Jim Collins, when analyzing businesses for his various books, discovered that most successful companies had what he called Big Hairy Audacious Goals.
It's exactly what Michael Jackson had. Become the #1 Pop Star. That's big. Audacious? Certainly. Hairy? Sure.
Jim Collins found that the best BHAG's were clear and compelling. They were easy for teams to wrap their heads around and take action upon.
In MJ's case he had a large team around him. Those at the record company. Those helping with his tours and sponsorships. All kinds of people.
MJ made it clear what his goal was and every decision that he made revolved around that goal and it was the same for everyone that worked with him as well.
The goal was clear. The goal was compelling. MJ was able to get everyone around him working to achieve the same goal.
You Get What You Emphasize
Mike McCarthy is the coach of the Green Bay Packers. During his tenure the team has remained a consistent contender and has won the Super Bowl and been to other title games as well.
Not easy in a sports league that favors parody.
McCarthy often talks about the importance of emphasis. He believes that you get what you emphasize in life. And so each season McCarthy and his team of coaches look at what needs to be emphasized in order for the team to succeed.
Some remain the same like the quarterback protecting the football and the defense forcing turnovers.
But new ones ultimately come up every year. I remember one year the emphasis was on improved tackling. Another year it was on a hurry up offense. Another year it was focusing the offense on a certain receiver.
When you have something simple like "tackling" it's easy for the team to understand what's needed and put their focus on it. When it's called out as important, as an emphasis, the team will work toward that common goal.
Imagine being a defensive coach and hearing everyday from Mike McCarthy about tackling. If you're hearing that you're going to be working on it. And if you're a player and you're doing more tackling drills and reviewing more tackling tape and your coach is in your ear all the time about tackling…you're going to work to improve on tackling.
Final Thoughts
What is your single #1 goal?
Maybe you don't have one. I think that's a common mistake for someone that is stuck in a rut in life. They don't have something to focus their attention on. They aren't working toward something.
I also think it's common for people to have multiple goals. You can have multiple goals, but for each goal you have you dilute your focus and energy.
If Michael Jackson had wanted to be the #1 Pop Star, the #1 Film Star, the #1 Author, the #1 Business Owner, the #1 Dancer, etc. he probably wouldn't have achieved any of them. He would have been too spread out.
If Mike McCarthy would list 10 items to emphasize for the new season the message would become diluted. Maybe he has one for the offense and one for the defense, but the more you add the less important each becomes.
If you're looking for success in life it will help greatly to find a single goal. Once you do that all your focus, all your energy and all your decisions will revolve around that goal.
And over time…you'll probably get what you emphasize.