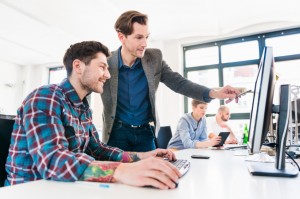 One of the keys to selling is to communicate the unique value.
People do look for differences between products, services, brands, etc.
Even subtle differences can be the make-or-break decision when a customer chooses.
For example, when you stop to fill your tank with gasoline you might come up on two stations right across the street from each other. How do you decide the one you want to use?
A number of factors come into play.
It might be easier to turn right instead of left. One might be busier than the other. The attendant in one might have a reputation for being snarky and short with customers. Or maybe you've simply chosen the same one for the last 10 years and it's become habit.
Subtle differences can matter.
When you're selling something to a potential customer, it's good to focus on the things that make you different. But you have to do it without coming across like you're putting your competition down while inflating your own value.
Today, you can use your website to communicate your unique value.
Here is how to do it on the various pages on your site.
Homepage
The homepage is all about communicating the value you provide and doing it instantly. If there is any confusion no your homepage (or any page on your site) you're going to lose visitors and potential customers.
The best way I've found to communicate your value on your homepage is to focus on what you do best. This means really focusing on the niche of your business.
You might have multiple services and products, but focus on the thing you do best. Creating a niche for yourself makes you more appealing to a target customer. When people want a specific service they don't look for a jack of all trades. They want someone a specialist.
It's like going to do the doctor's office. If you had a rash on your arm you wouldn't look for a doctor's website that simply said "General Doctor". You'd find the dermatologist or rash doctor.
Maybe you would even find a site that offered natural rash remedies (as opposed to a health store that offered all kinds of products).
Services Page
After your homepage, the services page is going to get a lot of traffic.
The services page is where you can go into detail about your service. You'll really need to show how you're different on this page.
For this page, I like when companies discuss their process. Usually, every business has a process that is at least subtly different than the competition. By explaining your process and how it results in value for your customers you're explaining how you're unique without calling out your competition directly or coming off as petty or anything like that.
And customers care about the process. They want to know the details about what they're getting. Think about the sales process you go through in person. The customers probably ask all kinds of questions. Use your answers to fill in the content on your services page.
Now when customers visit your site they'll be sold by the content on the site and they'll contact you ready to purchase.
About Page
Don't overlook your about page.
On GBW, the about page is often in the top 5 most visited pages. It's very much a selling page on your website and not just a fun page to have.
Your customers want to know more about who they're dealing with. Think of your about page as the small talk you have with customers in person. You tell them about your company and about yourself. You build a rapport so they're more likely to trust you.
You can explain the company's history. Explain your own history. Talk about what the vision is for the future and what your mission is with the company and your customers.
This might seem like something that's not important, but who you are makes you unique. There can only be one brand like yours and that is your company. Embrace everything about your company and communicate those aspects on the about page.
Your employees also make you unique. Include them on your About page to give your visitors more insight into why you're different than the competition.
Blog Posts
Blog posts can really show your unique value.
The information you share in blog posts is an added value. Your competition might provide a service that is similar to yours, but they might not offer great blog posts that give your target customers actionable information.
For example, there are two home builders. Both are great at what they do. They charge similar prices. Everything is seemingly equal, but one of the builders has an amazing blog that provides weekly tips for homeowners. They publish tips for regular home maintenance like, Prepare Your Home For Winter With These 10 Steps and 11 Carpet Cleaning Secrets.
Blogging builds trust along with providing added benefit. It also builds a voice for your brand that goes beyond the usual sales talk. You can connect with customers through your blog posts.
It's something that can make you different than the competition. That helps you stand out and get more competition when things are close in the decision.
Conclusion
Don't underestimate the importance of your website content. Some overlook it during the initial design phase and in the ongoing stages of the site.
When first designing a site, you should start with the content. You can use the points above as a guide. It's also good to review your content every 3-6 months to see if it's still relevant. You're likely always improving your sales process. Use that ongoing knowledge to make improvements to the site's content.
Try the method above and it should help you close more sales using your website, which is like a 24-hour salesperson that never needs a break.