Following eMarketer and their research should be on the short list of things for your business concerning online marketing. They are frequently coming out with new information – that they share for free mostly – that can have an impact on your online marketing.
Recently, eMarketer shared some information from a study that ExactTarget did. The report – Subscribers, Fans and Followers: The Meaning of Like – has some great information about business marketing and how Facebook is having an impact on online marketing.
The full article and graphics have some great information. It's worth checking out the entire piece, but one specific finding led to some interesting interpretation from the smart folks at HubSpot.
Unique Content for Facebook
Here is the interesting chart from the article:
Facebook User Expectations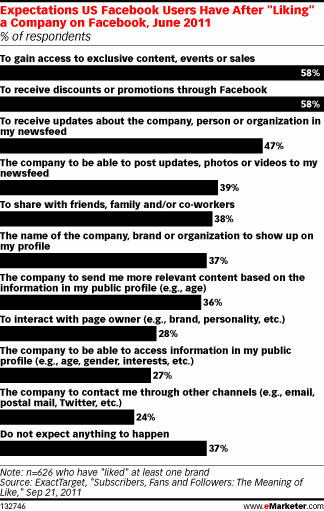 The first item on the list is the interesting finding. More than half of the folks that fan a company on Facebook expect to receive exclusive content, offers, and sales. That's a big expectation and something that's probably justified. After all, a fan is providing your business with their loyalty so there should be some benefit that goes back to the user.
The folks over at HubSpot had some good insight into what this finding means for businesses. From 58% of Facebook Users Expect Exclusive Content From Business Pages:
…it seems that marketers might want to put more effort into offering fans content that isn't available through subscription to other channels such as following your brand on Twitter or subscribing to your blog or email updates. Consider different ways to leverage users' desire for exclusivity, whether through running a contest that only your Facebook fans are eligible to enter or creating content specifically for distribution on Facebook.
Creating unique content for Facebook followers is a good idea. It's good to give your customers what they want. The issue I have is with the exclusive part. I'm not so sure if it's would more than a little effort to provide exclusive content for Facebook and your Facebook followers.
Owning Your Content
I'm still a fan of creating unique content for your own media channel – your website and your blog – and syndicating that content on channels like Facebook and Twitter. This way you can form a strategy that will live through the life of channels. Today, Facebook and Twitter are the kings of the media channel world. In the past it was MySpace. In the future it could be Google+. The fact is the channels will always change unless you create a strategy that involves creating content for a media channel that you have control over.
As the channels change, your own content will still be able to find a second home on wherever people are congregating. Now, I don't think Facebook is going away any time soon. In fact, it seems the folks at Facebook are doing more to give businesses real ways to acquire customers on the platform. The opportunity on Facebook might warrant more attention and more effort, but I would still shy away from yielding entirely to Facebook.
Here is what I would do.
Create a contest exclusively for Facebook fans. Track the results. Then host a contest on your own site. Share the benefits of entering with the fans on Facebook, giving them the chance to sign up. Measure those results. If the difference is negligible you can probably stick with hosting contests on your own site. As long as the contest is truly valuable you will be satisfying your Facebook followers. And you might even encourage them to sign up for your email list – a much better situation than being a Facebook fan.
Also try publishing exclusive content on Facebook. Share it on your wall and get it into people's news feeds. Track the statistics. Then create content on your blog – again, make both pieces of content valuable. Share it with your Facebook fans. If the difference is negligible it's probably worth focusing on your own site rather than exclusively on Facebook.
This is up for discussion, though.
What are your thoughts on providing unique content for Facebook fans?
What is your business doing?
I think that as long as you're providing valuable content on your own site and syndicating it on Facebook you'll be satisfying fans.
But maybe that's not true.