Recently I read an interesting article on SEOmoz about the power of a tweet for search engines results.
I immediately knew I had to test this out for my own and while results weren't huge for me I did find something that excited me. Ok, the potential of the way Twitter and tweets can impact SEO is something that excites me and I wanted to share the findings of my small test and let you know the direction SEO and social are likely heading in the future.
Tweets for SEO
After reading the SEOmoz article I tried getting the attention of a few artists on Twitter via @cmusiclife. I sent out tweets to Brett Eldredge, David Nail, Sarah Darling, Chris Young, and Tracy Lawrence. This could be bordering on spam, but the information in the tweets was legit. Readers on CML have been frequenting the posts about these artists' songs.
Sarah Darling was the first to respond.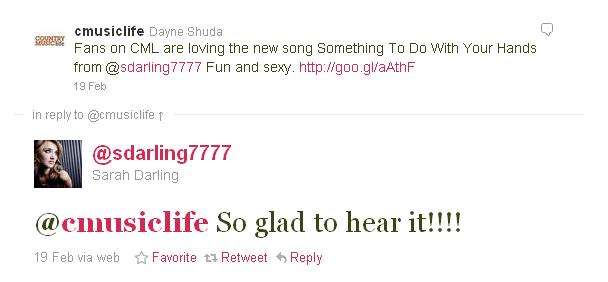 It's a great song. Her fans love it. CML readers love it and Sarah is happy to have a hit on her hands.
For the SEO test this didn't have an impact though since it was only a reply.
Next up was Brett Eldredge.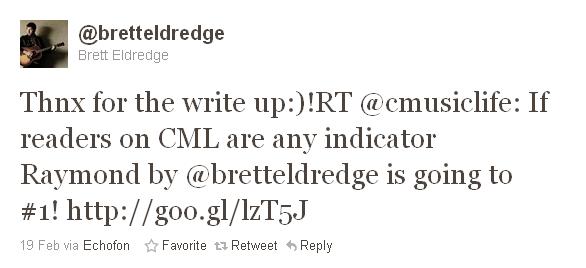 No we're talking.
I checked the results on Google for "Brett Eldredge Raymond". CML ranked 2nd to last. I guess that's spot #9, but with the results including social and images, I'm not sure how it works out. We'll call it 2nd to last.
About a day or so later CML had moved up one spot. Was it a result of the tweet? I'm not sure, but it could have been.
Now the page seems to be back down to its 2nd to last position. SEOmoz did see a little fall off in their example too.
What does this mean?
So what does this mean for bloggers?
Twitter is becoming important for SEO rankings and that includes rankings for your blog. The direction seems to be receiving authority links via Twitter from important Twitter users. Obviously if the country artist that sings a particular song shares a link to a page about that song it should have some authority.
That was my theory anyway and we'll see if things shake out as expected over time. Sometimes they do and sometimes they don't.
This could obviously turn into a mess too if Twitter power users start tweeting for money. Google has been penalizing sites like Overstock and JCP for this activity in the linking world. Now it's shifting to social.
It's a moral dilemma out there in the SEO world and it includes blogging.
What do you think of the future of Tweets impacting rankings?
Share your thoughts.