How are you planning to invest in content in the future?
Travel professionals are planning to invest in content. Social media is proving to be effective for this industry, but as we've discussed before, content still drives social media success. It's for this reason that travel professionals indicated they would be investing in content in 2012.
From Social Is the New Normal for Travel Marketers:
According to Frommer's and Tnooz's "2011 Digital Marketing and Content Survey," 65% of travel professionals polled worldwide planned to increase their social media marketing budget in 2012, a higher percentage than for any other digital marketing tactic.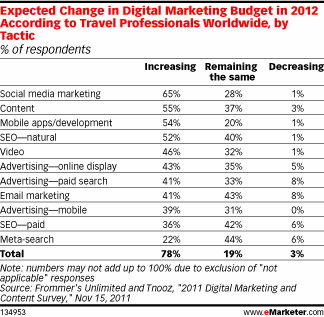 It's interesting to see how many travel professionals responded with social media, but what I'm interested in is the investment in content, which is #2 on the list. It's an interesting questionnaire list to begin with. I'd argue that content is a major part of each of the other answers including social media marketing.
I've been seeing information regarding investment in content in a variety of industries as we head into the next few years. There is obviously interest in other areas like social and even SEO. Each of these adds up to a well balanced business model. The thing that is becoming more important it seems, though, is content.
Content can be the central focus of the balanced customer acquisition strategy.
Your website or your blog serves as the center of your customer acquisition strategy. You create content that is interesting to current and new customers. Current customers tell their friends (referrals). This could be done via real world conversation, social media conversation or email messaging. Maybe they're even sending texts back and forth.
New people discover your content via these channels. I think SEO will still remain a small part of the equation. People still use Google a ton and Google still provides free traffic for websites, but that model seems to be changing, which makes sense.
The first goal is to get the new traffic to your site and interesting in your brand. This is job #1 for your content. The second task is to get those new visitors to subscribe to future updates from your company. There will be occasions when the new visitors convert directly to customers, but that shouldn't be your only goal. You want to earn opt-in to a list you own such as an email list.
Each of the items listed in the chart above can be part of your customer acquisition model. Your model will be unique to your business. You might have more paid than free or the opposite may be true. What I'm saying is that content will almost always be important in any of the items above. Content is needed to convince people to become interested in your brand. Content is then needed to earn opt-in and eventually sales.
Social media marketing will definitely be important in the future. I really see people using it to do what they've always done in the past in the real world: refer friends, peers, and co-workers to brands and content. If your company is part of this in the online world there is much to gain including new business.
So I'll ask again, are you investing in content in 2012?