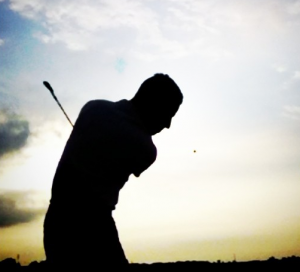 I love golfing.
It's getting close to the beginning of the golf season here in Wisconsin. The snow is starting to slowly melt. The days are getting longer. It's a great time of year.
All winter I've been watching golf videos on YouTube. I've been watching how-to videos with tips on the swing. I've watched videos on golf psychology and I've been watching just about all the videos that are posted with Jackie Burke Jr.
He won the Masters and the PGA Championship in 1956. I had never heard of him before, but if you search you'll find all kinds of videos where he shares wonderful insight on golf and on life.
One of my favorites is when he talks about Ben Hogan, arguably the best golfer of all time, and how Hogan liked to live in what he called the Circle Of Insecurity.
Hogan didn't like to spend too much time feeling secure. He came from poverty and struggled for many years with his golf game. He eventually had a break through and starting winning and really never stopped even when he had a horrific auto accident.
Hogan recognized that being insecure in life is what gave him the motivation to improve. He didn't want to become complacent in success because he knew that would be the start of a downfall.
Starting Out
Most entrepreneurs start from a place of insecurity. We start with nothing and work to get something. We work to make something work from nothing. It's not easy, but for the entrepreneur there is really no other option.
And that's the key. When you are out of options the only option you have is to put in the work and improve. Nobody is going to do it for you and there are no shortcuts.
That's a good place for an entrepreneur to be. You'll read and hear all the time in startup stories that it was a great time for the founders and those involved. They'll often talk about an Us Against The World feeling in the company in the early days.
That doesn't mean that it was easy. It means that it was challenging. And challenges make people motivated. That's where success comes from.
Staying In The Circle Of Insecurity
It's an odd paradox in life. We all work to build security in life. It's one of Maslow's Hierarchy Of Needs. Safety. We seek safety or security in life.
Money is one way to built security. If you build a business you can build monetary security in your life. You can build an income. You can take that income and invest. You can buy a home, shelter for you and your family.
So we seek this security in life, but once we achieve it or even a basic level of it the danger is losing the motivation to keep going.
The greatest athletes in the world seem to be the ones that find ways to continue to motivate themselves. Once they're secure they know how to move themselves back into the Circle Of Insecurity.
I think Tom Brady (I'm a Green Bay Packer fan) is one of the best at it. He's won all kinds of games, awards and Super Bowls, but he always seems to be focused on accomplishing more. He never has a feeling of security about him.
Ben Hogan had that. I think Tiger Woods had it for a while. I don't know if he still does, but he definitely had it. Jack Nicklaus had it for a long time.
The best entrepreneurs have it as well. I just read Sam Walton's autobiography. He was proud of what he created with Walmart, but he never seemed entirely secure in what the company was doing. He was always looking for improvement in the company and in himself.
I also read about the concept in the new book From Impossible To Inevitable. Co-author Aaron Ross believes in pushing himself into new circles. He'll rent a house that he can't afford as a way to force himself to improve. He calls it Forcing Functions, but it's the same concept.
Final Thought: Motivation
Money is a great motivator. With money you can do great things. You can provide for your family. You can invest in innovation. You can give back to the community.
So with each level of security there is a requirement to find the next Circle Of Insecurity. You're at a new level now. You did great things to get there. Now you have to put yourself in a new circle and get back to feeling insecure. Then put in the work again to make sure that you're on the path to improvement.
It's a subtle thing in life – to think about embracing insecurity. But it's something that is important for there to be ongoing success in business.