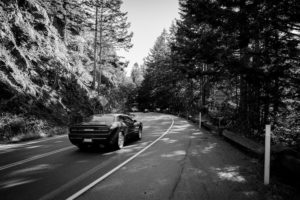 Local businesses are obviously those that rely on getting customers from close proximity to their location.
For this post we're looking at restaurants, health & wellness studios, grocers, realtors, mechanics, car washes, fuel stations, retailers and all those types of businesses.
For these businesses, social media can be a great way to market and attract new and repeat customers. And for many local businesses, having a presence on social media might no longer be a nice-to-have strategy. A recent study found that 63% of people are more likely to use a local business if that business is on social media.
That's a high number, but if you think about it the stat makes sense. Not everyone uses social media, but many do and those that do use social media very often. They find information through their connections. They come to trust the information they find on social media because it's been helpful to them in the past.
All this means that social media has become very important for local businesses, but the next question is: What is the best social network for local businesses?
The answer is…
Facebook: The Best Social Network For Local Businesses
It's probably not surprising, but the more you dig into it the fact is that Facebook is the best social network for local businesses. There are exceptions to every rule, but Facebook really has become the dominant force in social media. It's reached the point of almost replacing the term "social media". Many people today say "Facebook" when they mean "social media" or "social network". I'm not talking about marketers, but every day consumers.
According to Facebook's own stats, they have over 1 billion daily active users. Most of these folks are using Facebook via a mobile device like a smartphone. Another 500 million people around the world use Facebook every month. That's on top of the people that use it every day.
Those are probably the biggest reasons that Facebook is best for local businesses:
One, most people use it. And two, they use it all the time.
For most local businesses there is a target customer. You're not selling to everybody in your area, but the great thing about Facebook is that nearly everyone in your area is probably using the site. And you can segment out to get to your ideal customers. You can do that with Facebook's advertising tools. You can do that by sharing content on your page that your ideal customers want and find valuable.
There aren't many other channels available to local businesses that give you that kind of access. With Facebook, you have the potential to reach someone every time they check their phone and open the Facebook app. That's pretty powerful.
Getting Started
There are lots of tips out there for getting started with Facebook for your local business.
Facebook actually has a great page for it: How to promote my local business on Facebook
So that's a good place to start.
There is another page as well: Helping Local Businesses Reach More Customers
Another good place to start. That's getting into some pretty cool stuff with localized ads. You can really dig down into your core area of who you want to target on Facebook.
Then there are the organic ways to reach users on Facebook. The basics of a good Facebook posting strategy include:
Post regularly. Commit to a schedule and maintain that schedule. The more you post the more you'll learn what works and you'll build quality over time.
Keep it simple. Focus on questions your ideal customer has in relation to your industry and post the answers. If you get regular questions from customers about your business and industry post the answers on Facebook.
Make people laugh.
Use GIFs.
Share other people's content.
Create partnerships.
Blend Facebook with your website, blog and email.
Get as many followers as you can.
Instagram: Facebook's Kid Sister
Looking back on the first part of this post it seems like an ad for Facebook. That's not really what I was going for, but I'm buying into the fact that Facebook is the best social media channel for local businesses.
However, I wanted to get into a couple other channels not to overlook especially for a few certain kinds of businesses. The first is Instagram. It's owned by Facebook and really is like Facebook's kid sister. It started out as just one feature that Facebook already had – sharing photos.
But Instagram grew in popularity and now has 400 million monthly active users. 80 million photos are uploaded each day. It's getting big and they're building advertising platforms just like Facebook and it can really be a way for a local business, especially a visual one, to connect with ideal customers.
If you have limited resources, it might be best to just use Facebook, but if you have resources to handle both I would use Facebook and Instagram if you have a visual business.
Examples include: photographers, designers and even restaurants and shops. Take a quick photo of a new item and share it on Instagram. You can probably even have that feed directly to your FB page as well.
There is nothing easy about Instagram. It takes commitment, but all you're really doing is posting photos whereas with Facebook you're sharing photos, tips, answers and other information.
LinkedIn: Local B2Bs
Local B2Bs might want to focus their efforts on LinkedIn. If you're, let's say, someone that sells printer ink refills to local businesses in your area then Facebook could probably work, but you really need to make business connections. LinkedIn is the place to go to make business connections. It's where you want to build your profile and spend your time creating content, engaging in groups and more.
You can still connect locally, but LinkedIn is structured so that there is a business focus instead of an every day life focus like Facebook.
Directories: Yelp, Google+, etc.
And let's not overlook the importance of local directories like Yelp and Google+. I really look at Google+ or Google My Business as directories. You have to be on these. It's not really a question. You want to claim your business and make sure all the info is correct. You want to work to get good reviews because people will search for you on Yelp, Google and other directories.
Well, they won't always necessarily search for you, but they will search for descriptions like "Burger Restaurant" and if you sell burgers in your area you want those people to find you.
Conclusion
Social media is a great way for local businesses to market to ideal customers. The best channel is Facebook. It's simply the biggest network and it's where many people spend much of their time. Chances are that many of your ideal customers are using Facebook every day and if you want to reach them you have to implement a strategy. Follow the steps above to get started and commit to doing it every day and before long you'll be in good shape for building a following and getting new and repeat customers via social media.