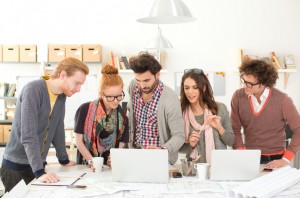 There are a lot of interesting things happening in the software industry.
At GBW, we've been seeing an increase of companies coming to us that provide software for various clients.
Some focus on the consumer industry and quite a few focus on the B2B or enterprise industry. In both cases there are differences between the companies, but also lots of the same attributes.
One thing I've noticed is that software entrepreneurs are smart, energetic and eager to figure out how to get their product out to the masses.
For this post we're going to look at the future of the software industry. But since I'm only a software user I don't think I'm qualified to provide the best advice on what's going to happen in the industry as it relates to software business owners.
So we'll leave the comments to the experts.
Here are 10 quotes from software industry experts about the future of the software industry.
1. Aaron Levie, Box (@levie)
"If you are no longer in the business of managing data centers and software but instead finding software better suited to a problem and using it to drive business results, it changes the role of CIO and IT organization."
My Thoughts
There is a lot of good stuff in this interview with Aaron. It's worth your time to read through it all, but the part that stood out to me the most was the item about business results. Software often focuses on solving problems or fixing frustrations and those on important, but on a deeper level are business results. If you can help a business make more profit you'll have an easier time selling your software.
Source: Box CEO Aaron Levie: Our future is as a platform, not a storage service
"One thing I'm always asking of our sales team is to "show me the money" because I'm a big believer that renewals and expanded customer relationships are near perfect indicators that we are helping our customers make money."
My Thoughts
Josh James is an industry superstar. He was involved with the success of Omniture and now he's building Domo, which is another information software company. This quote is similar to the previous one from Aaron. It can't be expressed enough that focusing on making your enterprise customers sales can bring your software company successful. Find a metric you can use when talking to prospects that shows the profit they could make if they used your software.
Source: Show Me A Sign…A Huge One, Thank You!
3. Mark Parker, Nike
Nike CEO Mark Parker told CNBC's "Squawk on the Street" that the company is changing its focus to software through its NikeFuel activity-tracking product and other apps.

Parker said "digital sport" is going to be integrated into more Nike products. "We think it's going to be a bigger and bigger factor in terms of experience with the products we create."
My Thoughts
Nike hasn't been just a footwear company for a long time now, but it is a surprise to hear the CEO saying that the company is focusing heavily on the future of software at the company. If Nike is planning on coming out with software products it's a sign to all companies that software likely has a future within your company. For software creators, this is good news if you can help these companies with their software needs, but it could also be bad news because you have to prepare for some big competition if you're in similar industries as these big companies like Nike.
Source: Software is 'bigger and bigger' deal for Nike: CEO (@JGolden5)
"Whether it's big data or normal data in silos, until you get the right data and ask the right questions, there's no value in it. In the end it's still about the questions a user asks [customers are not yet asking for big data solutions]."
My Thoughts
Vin's company has been landing really big deals over big companies. They're able to provide better results for their clients and that's why they're winning. That's an interest point in the article that we've discussed in other points, but what stood out here was the fact that software companies can gather all this data now, but it's useless without proper understanding. Your customers are busy. They don't have time to look through information and figure things out. If you can provide actionable items that drive sales and profit from data and intelligence you'll win lots of customers.
Source: Interview: Vin Murria, CEO and founder, Advanced Computer Software (@StuartSumner)
"Bomgar has a reputation for customer-focused development, intuitive product functionality and high-quality service, and is well-regarded among large enterprise clients. We believe that Bomgar uniquely addresses the needs of enterprise technology support organizations based on truly differentiated security, integration, collaboration and management capabilities."
My Thoughts
This is just an announcement about the investment in a firm, but what's great about it is this quote where the investor talks about the traits that he and his firm looked for in the company. Being highly regarded by big brands can really help your standing. Getting big brands on your side can lead to more business from other brands.
Source: Boston firm buys majority interest in Ridgleland's Bomgar
"Movie studios are spending hundreds of millions of dollars to market movies without the analytics and data to know where to target that marketing and to know it's working."
My Thoughts
This is a pretty simple quote, but an important one. And when it comes from the CEO of Salesforce you have to pay attention especially if you're in the software business. The key here is that we again have all this data, but companies are still figuring out how to use it all. If you can figure out a way to analyze data and give actionable items to enterprises or even to consumers you can really set yourself up for some success.
Source: Marc Benioff Funds Social Network For Film Lovers "MovieLaLa"
7. Giacomo Summa, Stylect (@CitizenSumma)
"When Tinder came along, we thought that applying its addictive UX to mobile e-commerce and shoes in particular could allow for a disruptive way to discover products on mobile."
My Thoughts
The point here is not that a Tinder-like swiping feature is the future of software. The point is that one big issue with smartphones and smaller screens is that it's difficult to discover content and that includes items that you might want to purchase as a consumer. If you can figure out a way to make discovery easier for anything you'll stand to gain traction for a software product.
Source: "Swiping Is The New Liking" Now Applies To Shoe Shopping
"The Internet is stuck. It's stuck inside devices and patterns of interaction that don't live up to its creative and expressive potential. I'd like to change that. I'm building a new type of screen, and I'm going to put the Internet on your wall."
My Thoughts
I don't really know exactly what Jake Levin is building, but it has to do with hardware and it has something to do with screens and the way people interact with the Internet and with software. So that's why this is important to the future of startups. At the least, you have the issue of creating something for many different screen sizes. You have to make sure users can work on different screens. It might not be necessary now although we do have smartphones, tablets and desktops, but in the future we'll probably have even more. It's good to prepare for that right now with your design and UX.
Sources: Aiming To Build Beautiful, Internet-Connected Displays, Electric Objects Raises $1.7M & Put The Internet On Your Wall
"When you're an entrepreneur, the work pressure is very different. You want to personally succeed and bring your dream to life — and it can push you way too hard. Knowing my co-founder, he was really passionate about the project. He wanted the company to succeed so badly."

—

"Without your co-founder, you have to learn overnight to take care of everything. There are also many legal issues. Who has to take care of the company? What do we have to do on the inheritance side?"
My Thoughts
This article was powerful and can be a wakeup call. There were two important points in the article that stood out to me and we're using both of them. First, it's the importance of not working yourself to death. It can easily happen to entrepreneurs including those starting software companies. Second, you have to plan for anything with your business. I couldn't imagine losing a co-founder who is also likely a friend and best friend. That would be incredibly difficult to deal with. And while it may be challenging to discuss, you have to figure out how a business can move on in case the worst happens. Always plan for the worst scenarios. Bad things do happen and if you're prepared you can come out on the other side.
Source: Putting The Many Pieces Back Together After The Death Of Your Co-Founder
"Re Expedia/Rapgenius – check out what folks like http://oyster.com or http://maptia.com have done/are doing. They're building value, community, content, and press without worrying too much about Google & SEO. I think that's the way I'd approach it, too. I'd try to build my brand without SEO and then get SEO as a side benefit of my brand growing. Tactics like social, content, community, branding, video, etc. would be my primary methods. Incidentally, I think that's what Google wants, too."
My Thoughts
How interesting is it that the founder of an SEO (or former SEO company) is talking about not focusing too much on SEO? Rand is still saying that focus on SEO is beneficial, but when you focus on what your target customer wants first you'll find that the SEO can kind of take care of itself at least to some level. This is good advice for any software company looking for SEO shortcuts. It never works out in the long run if you do. Go with Rand's advice instead.
Source: Howdy Reddit, I'm Rand Fishkin, Co-founder of Moz, AMA
Hopefully this insight can help you as you grow your software business. It's an amazing time to be a business owner or involved in a growing business. And there is a lot of opportunity in the software industry. Not every new startup will succeed, but if you follow some of the advice of the leaders in the industry and try some new things you'll give yourself a good chance for success.