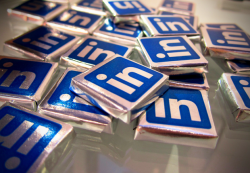 Social media buttons are the things you see on websites everywhere.
Businesses are putting social media buttons on sites to encourage visitors to follow them various social media sites. Other buttons are meant to encourage people to share content from the websites like videos, blog posts and photos to the various social media sites.
It's crazy to think that just five years ago there were really only two social networks around: MySpace and Facebook. And MySpace was the more popular of the two.
Things have really changed.
Connections and sharing have become more important in the online world. They were always important in the real world, but today people really have no limits when it comes to connecting with other people and sharing with those connections.
If you're doing business today and your target customer is using the Internet it's important for you to understand the social nature of people using the Internet. This will give you the information you need to put the right social media buttons on your website.
My Love // Hate Relationship With Social Media
I've struggled with social media over the years. I remember when Facebook first arrived at my college. Back in 2005-2006 you could only access the site with a .edu email address and your school had to be included.
From there it was like a whirlwind for Facebook and now everyone is using the site to connect with people, get the latest news about those connections and to get some feeling of meaning in life.
I don't use Facebook these days. It's not for me. But I understand that it's important to others.
That's one lesson I've learned with social media. You have to recognize the social channels your target customer cherishes most. If you want to grow an audience around your brand you have to tap into existing audiences online.
Social networks have those existing audiences.
Country Music Life
My personal site – Country Music Life – has reviews of new country songs. It's a way for country music fans to discover new songs. The site used to have a Facebook page with about 500 followers, but I had to close the page down. I wasn't able to invest enough and the traffic from the site seemed to come whether there was a CML page or not.
That's an important part of social media buttons. While a Facebook page isn't a top priority for CML, the audience on CML uses Facebook often. A lot of traffic to the site comes from Facebook. Fans share the songs with each other on Facebook. Artists also share the reviews on their Facebook pages where fans can learn about the review and read it as well.
CML has five social media buttons:
Facebook Like Button
Twitter Share Button
Google +1 Button
Twitter Follow Button
Google+ Follow Button
I've identified the networks that are important to the success of CML and have included those buttons or calls to action on the various pages on the site.
The biggest call to action on each review is for people to purchase the song. The second is to have people sign up for email updates.
Other calls to action on the page are secondary including the sharing buttons, but it's important for people to share the reviews on Facebook, Twitter and with +1. When people share the reviews more people come to the site and the audience grows over time.
The follow buttons are there because some people like to get there updates that way. Twitter and WordPress make it easy to share the new posts from CML. Google+ is seemingly necessary for search engine.
The engines seems to be using social followers as a sign of brand reputation, which is an important part of SEO. If you have a strong brand the engines trust that you provide quality content.
So Twitter and Google+ are important to have for social and SEO purposes.
I'll always be evaluating the social aspects of CML and will always determine if I should add or remove buttons.
Ghost Blog Writers
GBW is the same with social media buttons, but a little different in the networks.
Again, I try to be careful with calls to action on each page of the site. I think sharing and following are part of the sales process, but I'd rather have people subscribe to the email list or read the Services page to move down the sales funnel.
GBW has six social media buttons:
Twitter Share Button
LinkedIn Share Button
Google +1 Button
Twitter Follow Button
LinkedIn Follow Button
Google+ Follow Button
A few of these are links, but work like buttons.
GBW has a different audience than CML so there is a different focus on networks. LinkedIn is becoming very important for GBW. We're making connections on the network, meeting new people and earning new clients. It's important for our blog articles to be shared on the network while building our following there.
Twitter has always been a place for people to share articles. So it makes sense to have the Twitter buttons on GBW.
Google+ brings a little traffic, but building that following seems to have SEO benefit so we focus on Google+ just like I do with CML.
The social media buttons are visible, but not the main calls to action. People reading the post can see how popular the post is by glancing at the number of shares.
If someone wants to follow GBW on one of the networks they can easily find the link to do so.
The Takeaway: Your Site and Your Customer
Your takeaway from this article should be that the social media buttons you put on your site should depend on your business and your customer. Focus on what is best for your business. Then focus on where your customers are in the social world.
One goal I have for both CML and GBW is to make more videos. Consumers are demanding more online video and I figure I should do my part to give it to them. It will be good for the businesses.
So I'll be adding YouTube buttons to the sites.
There may be a time when you want your social buttons to be the biggest call to action on a page on your site, but I see it being that way only rarely. There are other calls to action in the sales process that will help you increase sales more than a share or a follow.
But sharing and following are important to growing your business. Find the social networks that are important to your business and your customer. Then add those buttons to your site where it makes sense.
And don't clutter up your page. I've seen sites with what seems to be too many social media buttons. I think around 5 or 6 you start getting to the point where it's too much clutter.
Social Media Button Resources
Here are resources to add social media buttons to your site:
Best of luck with your social efforts.
Image: Nan Palmero