SEO is tops in a recent study highlighted by Search Engine Land.
SEO generates more leads than both PPC and Social. It might not be a surprise, but it's worth noting that SEO continues to lead to more sales and leads than PPC and Social. People are still figuring out the commerce side of Social and PPC is expensive.
SEO is a long-term strategy with huge rewards for those willing to invest in activities like content and blogging strategy.
SEO for Sales Leads
Search Engine Land does a great job of highlighting the details in the study. It's worth a couple minutes to read their overview linked above. Here is the most important part:
Whether B2B or B2C, both groups of marketers agree that SEO has the biggest impact on lead generation. 57 percent of B2B marketers credit SEO as their primary source of generating leads, while 41 percent of B2C marketers said the same thing.
The articles goes on to state the planned increases in budget spend for each of the areas as well as some interesting notes on the trends in social media for businesses. Social is certainly interesting at this point, but SEO is still tops and appears to be staying that way for some time and probably always.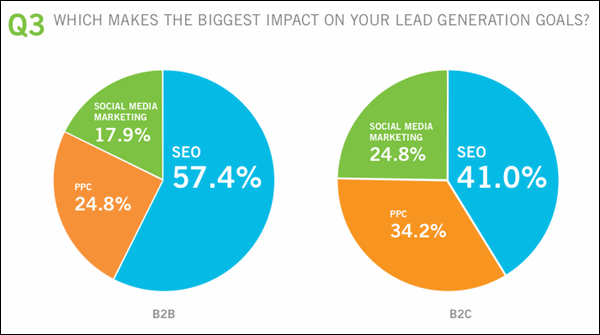 In the B2B world, SEO is on top of social and PPC by a wide margin. This is no surprise. B2B businesses seem to have audiences willing to engage in organic content and to take the next step to reach out.
For B2C companies, SEO is still important, but social and PPC aren't far behind.
Business Next Steps
Does your business have a content and blogging strategy aimed at targeting SEO traffic?
You might be losing out on sales if you haven't yet developed a strategy. Look to create fresh content on your website while always providing something that's interesting for your target customer. Understand their purchasing decisions. You likely work with customers face-to-face in a selling situation. Think about how long it takes to discuss their concerns and turn those into blog posts and page content. It might help create content when you're lost for ideas.