Overstock is big.
The company, sometimes known as O.co, is #28 on the Internet Retailer Top 500. Overstock has been one of the original online ecommerce companies that has survived any downturn in the economy and has been able to thrive with various online marketing efforts.
Even despite a few snafus like their penalty from Google, Overstock has been able to consistently reach customers online. The company is able to attract new traffic and convert those visitors to customers. Where others have failed, Overstock has won.
And there's one aspect of the company's marketing efforts I really like – Guides.
Overstock Guides – A Business Blogging Case Study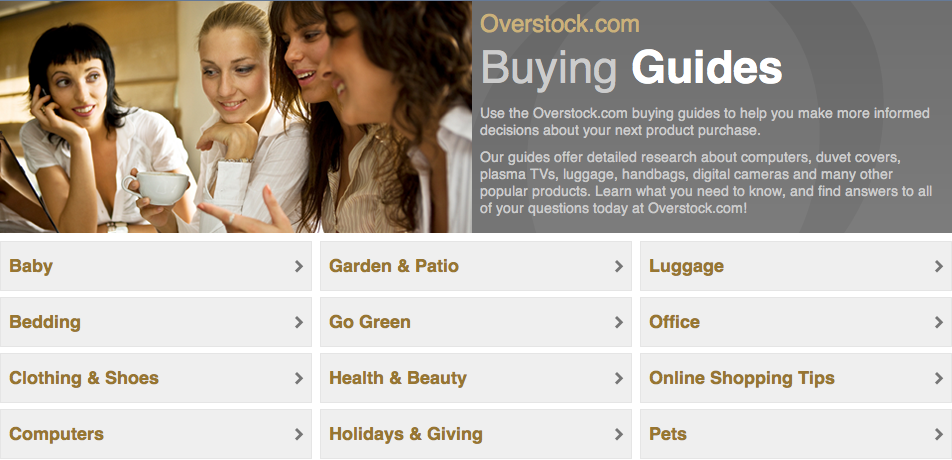 It was probably a year or so ago when I first discovered Overstock Guides. I was immediately intrigued. It was unusual to see a company taking it to this length to create really useful content as a way to attract long tail search traffic and convert that traffic to customers.
According to the page, Overstock is aiming to help consumers make their next purchasing decision. What they have done is put together guides full of useful information consumers need to make their purchasing decisions. The guides are formatted well. They're easy to read. They act almost like a mix of blog posts and long form product copy.
The Guides are great for attracting visitors searching for long tail keyword phrases. This is really the main goal of any content strategy including business blogging. That's what I think of when I read the Overstock Guides. They're really a way to solve problems and educate consumers. It's the same strategy as a business blog for a retail business, but it's called Guides instead of Blogs.
Solve Problems and Educate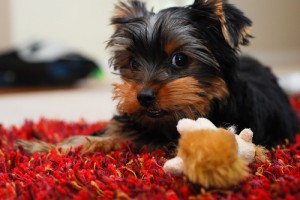 Let's take one of the Guides as an example.
Best Chew Toys for Dogs. That would seem like a pretty good search term and it is. There are some searches for this each month. It's not as big of a search term as simply "pets" or "chew toys", but blogging and content is about winning the long tail. 20% of Google's searches each day have never been searched before. That's a ton of traffic for crazy long search keyword phrases. To capture that traffic and other traffic a content strategy is the way to go.
Overstock ranks in the top ten for the term "best dog chew toy". That's a big win. O.co is going against the big players in the industry like Petco, Pets.com, and Drs. Foster and Smith. The way Overstock was able to win this term was creating an entire guide or blog post aimed at helping people decide what the best dog chew toy is for their dog.
This particular guide is just over 500 words long – a common length for a useful blog post. A quick scan of the guide shows a few targeted and useful keyword phrases:
Synthetic Chew Toys
Edible Chew Toys
Interactive Chew Toys
These are great long tail terms for pet shoppers. These terms go beyond the most common "dog chew toys" term and really get into the long tail of the search world. That's where I think business and retailer bloggers get the most benefit – the long tail.
Content Is Winning
Companies that use content strategies like that of Overstock will win. Companies that create guides or blogs will find the effort will lead to big wins in the form of long tail search traffic. When written correctly, these guides will bring awareness to the fact that Overstock offers pet goods. And in the best case scenario these guides will bring traffic to the site that directly converts to customers.
If you are considering a content strategy for your business, consider creating guides or a blog. By starting a content strategy you'll be positioning yourself for long-term success.
Search is going to be powerful in the future. It's powerful today. It drives qualified leads to your site if you have the content to attract visitors.
Use companies like Overstock as one of the great examples of a successful content strategy.
Dog Chew Toy image courtesy of maveric2003