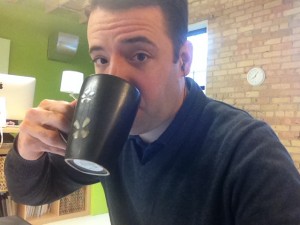 Through our work at GBW we see a lot of small business owners investing in online marketing.
You might be one of the folks looking at the online marketing opportunity.
And if you're like the other business owners we're working with you're probably trying to figure out what all this online stuff is about. Heck, we're trying to figure it all out ourselves.
There is a lot of information out there.
Social Media, SEO, PPC, Blogging, Retargeting, Etc.
It's a lot of information to digest.
We thought we would take some time to create a list of quick tips that are in priority for most small businesses. If you're looking at where to start your online marketing efforts then this list should help you create a path for your business.
1. Determine if your customer uses the Internet
If you're customer is not using the Internet in some fashion then there's no point in investing in online marketing. Age is one factor you can examine to determine if your target customer uses the Internet. The younger the person, the more they'll use the Internet for a variety of things.
2. Invest in your own website
The first place to invest online is with your own website. You don't have to go all out with a custom website right away, but if you're committed a custom website is the way to go. Without ecommerce functionality, a designer can develop a site for you for a few thousand dollars. The rate can fluctuate quite a bit based on the number of pages you need on the site. Ecommerce and similar functionality can also cause the price to go up.
Investing in your own website is well worth it in the long run. You own the content on your website. You control the platform. It might be free to use Facebook and other social media as your website, but you cede control to those properties and you never own the content.
3. Use WordPress
WordPress is likely the best way to manage your website if you're a basic business. It's very well supported. All kinds of designers and developers know how to use it.
Invest in your own domain. Invest in WordPress hosting and build your website using WordPress (free) and its premium tools (VaultPress, Askimet, etc.).
4. Cover the SEO basics
On-page SEO isn't as difficult as some make it out to be. You want to cover the basics, though. Use unique title. Focus on one keyword per page. Use headings and short paragraphs. Setup Google Authorship.
5. Build an email list
Email is better than any social media when it comes to building a following. Your email list is something you own and control. You don't have either of those things with social media.
Use a service like Aweber for email and start building your email list.
6. Invest in blog posts, own your content
We're biased on this point, but it's still what we recommend to business owners, clients and otherwise. A blog post is something you own. It's an asset that continues to work for your business long after it's published. Social media updates have a lifespan. Those tweets and Facebook updates you posted last month are long gone in the minds of the search engines and social followers.
Your blog posts are assets that will send traffic to your site forever.
7. Build social media communities
Build social media followings as a way to bring interest and traffic to your website. Social media is a very good source of traffic so you don't want to ignore it. Just focus on getting people back to your site instead of using social media as your online base of operations.
8. Use Facebook, Twitter, Google+ and LinkedIn
These are the most worthwhile social media sites to use right now.
9. And you don't have to use every social media site
If you're a small business with not a lot of time to spare don't invest in every social network. Don't even invest in two or three. Focus on the one where your customers are spending the most time and focus there. Facebook is good for businesses that are more at-home and personal. LinkedIn is ideal for businesses that target other businesses.
10. Use The Snippet Strategy for social media updates
Build your blog and use snippets to bring in traffic from your social communities.
11. Answer common customer questions
The best blogging strategy or content strategy is to answer the common questions your customers have. You've probably answered them a million times in person and over the phone. Simply take those answers and turn them into blog posts.
12. As you create more content, broaden your focus
As you run out of common questions to answer you can broaden your focus. Look at things that your customers care about. Buffer did a great job of this by writing posts about how to use Twitter.
13. Use early-stage calls to action
When someone reads your blog posts or social media updates they're just getting to know you. If you meet a potential customer on the street do you ask them to purchase your product with the first words out of your mouth? Most likely you aren't doing that so don't do it with your online efforts such as blog posts. Look for easier entry conversions. Ask the reader to subscribe to your blog post. Ask them to follow you on social media. Offer them a free piece of content in exchange for their email address. Build the relationship as you do in real life.
14. Explore potential partnerships
In your offline business you probably have a partnership or two that leads to new business. The same strategy works really well online. Let's say you're a plumber. You can connect with an interior designer to develop a guide for remodeling bathrooms. Let's say you're a business consultant. You could partner with website design firm to help businesses build perfect websites.
15. Invest in your own photography
There is some great stock photography out there, but there is nothing better than having professional photos of your own. You can do a lot with your smartphone these days, but have someone with a good eye taking the photos.
16. Partner with a quality designer
A designer is a must-have person to have on your online team. They'll come in handy in more ways than you can imagine.
17. Partner with a quality developer
See: quality designer
18. Expand your blog to include lists and always link out to others
You'll start by answering common questions. As that runs out move to creating lists that include links to other websites that share the same target customer as your business.
Lists, interviews, featured stories and more are all great blog post types. Another way to create a post is to take a recent news item in your industry and provide your point of view on the topic. Anybody can report the news, but not everybody can interpret it. That's where your expertise is valuable.
19. Consider adding a video strategy
Video is blowing up online. It seems to be getting even more popular with small screens. Businesses don't have large screens to connect with their audience anymore.
It's hard to get 2,000 words on a smartphone screen. It's easier to get a video on a smartphone screen.
Video will play a large role in the future of the Internet.
20. Track all results through increased sales and profit
There is a lot of discussion about what you should track for online success. For blogging, we look at traffic, but only as an indicator of success. In general, when our traffic is up our sales will be up shortly after.
But that's not always the case so instead of focusing on different metrics we just stick with sales and profit. It those are down we look for the reason and look for ways to increase sales and profit.
Keep it simple.
21. Explore paid opportunities
We don't use paid opportunities at Ghost Blog Writers, but they can work. We've seen them work well for businesses of all sizes. Google has a paid advertising program. So does Facebook and Twitter. They don't seem cheap, but if you can find a formula that works it's definitely worth investing.
22. Increase your blogging frequency
After you've gone through all of these options you can increase your blogging frequency. In general, the more often you can publish interesting content the better. It leads to more traffic and sales. But always keep the balance of writing good posts and writing a lot of posts. It's tricky, but by this point you'll have a pretty idea of how it will work for your business.
23. Look for guest content opportunities
It's also worthwhile to look for guest content opportunities. We mentioned partnerships. Those come in all shapes and forms. Guest opportunities do as well. It can be as little as providing a quote for a blog post or it could be something like a guest post.
Look for ways to get yourself in front of established audiences. Don't do it for links. Do it for the exposure. And give away your best information in front of those audiences. You'll win them over and they'll come to your site looking for more. That's where you can win them over and get them to subscribe.
24. Turn your blog posts into guides
After you've had enough posts published, turn the posts into a guide. Have your designer create a .pdf that can also be put on your site as HTML. Then give the guide away to new email subscribers.
25. Expand your email strategy
Automate your blog posts initially for your email strategy. This will ensure that you have an email strategy. Then as your online efforts grow you can start segmenting different lists while creating custom emails that do more than just share your new posts with readers.
And here are things to avoid with online marketing. In our experience they simply aren't worth your time or money.
26. Don't invest in link building
If someone comes up to you talking about link building and SEO just turn the other way. 99% of link building is a scam. You'll only get yourself in trouble right away if you're lucky. If you're not lucky it will actually work in the short-term and set you up for a huge let down in the future after you've changed your business strategy for the new, false sales.
27. Don't invest in analytics software
I'm sure people will agree with me, but you don't really need more than Jetpack or Google Analytics, which are both free. I know many businesses that are doing just fine without anything more than the free analytics software. I'm sure the paid options are great, but I'd rather invest in creating content than invest in something that might tell me how my content is doing.
28. Don't quit your blog
If you can't maintain your blog, outsource it or decrease your frequency.
29. Don't invest in article marketing
This is another SEO scam. I still hear this term from business owners out there. Avoid it at all costs. Don't do anything that is about link building or putting your content all over the Internet. It's a scam. It's duplicate content. It will only lead to bad things.
30. Don't spam
Don't get overzealous with your email list. Treat those subscribers like gold. They're your babies. Give them much more than you ask for or take. Heap rewards of free content on them and help them in anyway you can.
Don't spam them with marketing messages all the time. Don't abuse the privilege by sending them too many emails. Test a few different frequencies and see what works. Don't overdo it.
Conclusion
There are a lot of things you can invest in with online marketing. If you're not sure what to do right now you're probably better off taking a step back and figuring out your approach.
There are a lot of ways to spend your money and time with online marketing. If you're not committed you'll end up wasting a lot of both and you probably won't get the results you're looking for.
The priority list above is the best way we've found for business owners to invest in online marketing.
Focus on the things you own and control. Go in with the understanding that it's a long-term strategy and after a year start looking at the payback in terms of sales and profit.
The rest doesn't really matter.