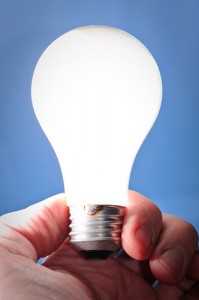 There are two types of bloggers when it comes to finding a topic to write about.
First, there are bloggers that only blog when they have ideas. These writers don't struggle with coming up with something because the idea drives the schedule.
Second, there are bloggers that blog on a set schedule. It could be daily, weekly or monthly. These bloggers are the ones that struggle on occasion to come up with an idea because the time requirement drives the schedule putting pressure to come up with an idea.
For those that are looking for blog idea inspiration we've put together 5 sources of ideas that are a bit outside-the-box.
That's the key we find at Ghost Blog Writers for coming up with ideas. When you get out of your comfort zone you make your brain think in new ways and it results in some really great blog topics.
So let your brain run wild and use these five sources of inspiration to create your next amazing blog post.
1. The Local News
That's right. Lots of people still watch the local news. Whether you're catching it at 6:00 PM or 11:00 PM the news has some important information. Use the stories to inspire an idea for you blog post that's due the next day.
This can work especially well for local businesses that blog with their local audience in mind. If you want to reach people you need to write about what they care about. If there is something happening in your area you can use it to create useful content.
For example, say there is a story in your community about a drought that has been impacting the area. A local super market blog could provide information about how the drought will affect food prices. People would be curious.
2. Kid's Tee Ball Game
Any place where parents get together to watch their kids is primetime for blog topics. When you get people together that are pretty bored you're going to get lots of interesting conversation. Listen to what people are talking about. If the parents happen to be your target reader you'll have plenty of ammo to fill your blog post schedule with. Just listen and then compare what the topic of the night is to your business.
For example, say the topic of the night at the game is the new school referendum. It seems like cities are always voting on those things and the information can sometimes be cloudy. A local law firm or accounting firm could provide a clear and easy to understand overview of the issue for people to read in a blog post. It will get the firm attention and earn them trust from the community leading to more customers.
3. The Golf Course
I'm a huge proponent of golfing for business. If you want to really get to know someone you need to play a round of golf with them. Nothing will bring out the true character of someone like the most frustrating game in the world.
Anyway, if your target reader is a business person then the golf course is a pretty good place to go looking. Join a foursome and listen to what the latest topics of discussion are. Also listen to what's being said in the bar after the round. You'll hear lots of topics that you can use for inspiring content.
4. Farmer's Market
There is something about organic food that puts you in a solid state of mind. I'm not sure what it is and I can't explain it, but whenever I'm at the farmer's market I seem to have a clear mind. If it's a bright sunny summer day it seems to work even better.
Go to the farmer's market, walk around and the fresh air should help you think clearly. Let your mind wander to crazy places of the world and come back with a head full of ideas. Also, you can pick up some fresh food for dinner and your family will be well fed. It's a great way to take care of two things at once and you'll also be getting out of the office, which is always a plus.
5. Twitter Lists
Okay. Maybe this one isn't as out-of-the-box as some of the others, but it's still something you need to be doing. Create a list of people that fit the description of your target reader on Twitter. Go to this list whenever you need an idea for a post. Check out the feed and see what people are talking about. When you come across a common theme throughout the feed you'll have a great topic for a post.
Conclusion
The idea for all of these is that you listen to the people around you. Whenever it's possible to listen to your audience you should because they will tell you what they want to know. Sometimes you have to listen because they won't tell you to blog about it, but if you listen carefully you can learn what people want to know about.
Write about it and provide useful information. You'll earn attention, trust and customers.
Related Posts on GBW
How to Have a Creative Blogging Idea Breakthrough
How Creative Geniuses Would Come Up With Blog Ideas
How to Chase Trends for Blog Post Ideas
Related Posts on the Web
The Only Blog Post Idea You'll Ever Need
10 Blog Post Ideas You Can Use Right Now
11 Uncommon Blog Post Ideas for More Web Traffic
40 Blog Post Ideas for When You Get Writer's Block
Image: shuttermonkey