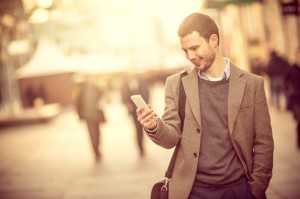 Nearly everyone that uses the Internet uses social networking. 74% of all online users use social media. The numbers skew pretty heavily toward Facebook, but a good number use the other social networking sites as well.
For Ghost Blog Writers, I mostly use Twitter and LinkedIn. That's where most of our target customers are and I've found that I can get the right kind of engagement on those channels.
Social media is important at Ghost Blog Writers. We create posts every week for our company blog. It's a big driver of traffic, leads and new clients for us. In fact, we don't do any advertising right now so we depend on our blog to bring in new business.
We get a good amount of traffic from organic search, but that takes time. We also get a good amount of traffic from social media. So we need to focus on getting good engagement while growing our social followings and communities.
Here are 5 steps I've learned over the years on how to get more engagement on social media.
Step 1. Identify Top Hashtags
For too long I avoided hashtags with my social media efforts. I use mostly Twitter, but hashtags are now available on most of the big sites so this step applies.
What I've done for GBW is identify the top hashtags that our target audience is most like to use. I've found that hashtags like #startup, #entrepreneur, #SaaS and a few others are the best. So I use those over and over with the tweets I share.
I don't want to overdo it, but I use 1-3 in just about every tweet especially when I'm sharing blog posts.
I've also done this for a few others industries:
Step 2. Mention Brands, Tools And People
I've written about this step before with the secret on how I got big brands to retweet my content on Twitter. I'm just a guy in Wisconsin, but brands and influencers will retweet my content.
You can do this by mentioning complementary brands and people in your blog posts. Then when you share those posts you can mention that you included them. They'll often see the mention and will sometimes re-share your update thus giving you exposure to their followers.
Even when you share someone else's blog post you should make sure to include them when you share. And go the extra effort to mention the people and brands they mention. You should see some good re-shares that way.
Step 3. Create Lists Of Influencers And Target Customers
I use lists on Twitter to follow different people. I have lists for SaaS leaders and I try to follow influencers in various industries. I like to re-share items I find the most interesting. When you follow the most important people in various industries you'll be able to re-share the best content.
And when you share the best content people will re-share your content. They'll follow you and by association the content you share that is your own will seem better to your followers. They know you only share the best content so they'll assume your updates and blog posts are great.
And don't worry if you only have a few blog posts. Here is a trick for re-sharing the same post over and over again while keeping it fresh.
Step 4. Add Your Own Comments To Content You Share
It's one thing to retweet an update on Twitter or whatever site you're using, but you can take it to another level by adding your own comment to the update.
You'll see this all the time from popular users on Twitter. They'll retweet something and add a little thought on the front of it. Here is a fictional example:
And create a content calendar. RT: @JoeSchmoe: Blog Tip – Answer common questions people have about your industry.
You're retweeting, which is good. And you're adding value and your own thought. It can lead to replies and retweets and more exposure.
Step 5. Respond To Questions
It's always good to respond to questions. You can reply or you can use the method from the last step. Create your lists of influencers, ideal customers and more. Then follow them and reply to questions. If nobody is asking questions then reply to what they're saying like the example in the last step. Comment on the links and articles they share.
You won't always get responses, but over time people will notice you and if you're adding good thoughts to the conversation they'll engage your updates.
Final Thought
Social media has become a major place where people spend time online. If you want to get traffic for your business website and if you want to increase your leads then increasing engagement on social media is certainly a good way to go. The steps above should give you some actionable steps you can begin right now. You can do it!