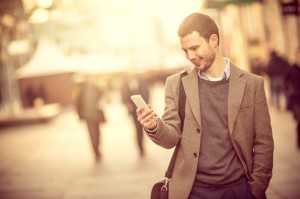 Smartphones have blown up around the world.
It seems like you can't leave the house without seeing most people on their smartphones.
We're all looking for information regarding all kinds of things in our life. It might be information for a restaurant where we're going to eat today or it might be information about how to do something at our job. It could even be information that is there to entertain us (How is the Packers off season going so far?).
If you're a small business then you have an opportunity to use people's mobile obsession to your advantage. The trick is to provide the information they're looking for in relation to your business and more importantly – to your industry.
Here are 5 ways you can use mobile marketing to benefit your small business.
1. Get Fast And Get Responsive
A big question businesses often have is, "Do I need a mobile app?"
It's a good question. There is no doubt that people are using more apps than ever before. But an app can be a big investment especially for a small business. It might be the right play depending on your industry, but chances are you can do just as well or better with a website.
But your regular website might not be mobile-friendly.
Two things impact whether a visitor will stay on your website while using their phone:
First, the speed of your site. Some mobile connections are not blazing fast. That's not your customer's problem. It's your problem. Since you can't really lobby the phone companies to put out more towers tomorrow it's in your best interest to make your site as fast as possible. Pay extra to have a host that knows how to make your site fast.
Second, the design of your site. If your site is designed only for desktop computers then you're going to turn away mobile visitors. Make things large enough to see. Make things easy to click with a finger. The best way to go is to have a designer create a responsive website that includes a smartphone version (and other versions) of your site. It's all the same content, but optimized for every possible device.
2. Invest In Online Video
It can be difficult to read tons of text on a page while using your smartphone. It's easier to hit play and watch a video of someone explaining what would be included in text. I think that both will be important in the future.
Video is blowing up just like mobile. Both are good investments even for small businesses.
For example, answer common questions on your homepage. That covers the text. Then turn that text into a professional video where you answer the same questions. Your visitors will have the option to read your content or to watch the video. Watching the video might be their preference; it will certainly be easy on their phone.
3. Dust Off Your Email Newsletter
Remember email marketing?
It can be easy to forget this marketing classic with all the social media and mobile marketing out there.
But email marketing continues to be one of the best ways to connect with your target customer. And it's even more important with smartphones because most people that have a smartphone check their email with it.
Start bumping up the number of times you email your customers. And do more on your website to increase your subscribers.
People are not going to stop using email on their phones anytime soon. If you want to earn their attention you need to start winning the war of the inbox.
4. Share Regular Photos On Instagram
Instagram is the most popular photo sharing community in the mobile world. Photographers are using the app to share their work and win the attention of scores of followers.
But Instagram is not only for photographers. You can use your own photos to win the attention of your target customers. People love photos and they'll love your small business's photos. But you have to share them.
Connect your company's Instagram account to your smartphone. Upload at least one photo to the app each day. Tag it with hashtags that relate to your industry and that are popular with your target audience.
Consistency is key. If you post a new photo every day you'll get followers and you'll learn the type of photos they want to see.
5. Business Blogging And The Snippet Strategy
Did I mention that people use the web to find information?
People won't find your small business website if you don't provide information for them to find. Your website has information directly relating to your company, but you need to do more if you want to win traffic from search and social media.
A blogging strategy is perfect for creating regular content that attracts visitors including those using their phones. People are checking their social feeds, emails and favorite websites all the time for new content. Your blog posts can be the things they're finding on those channels.
Start by identifying the common questions your customer asks relating to your industry (not your business). Think, "What wood is best for an outdoor deck?" instead of "How much do you charge to build a deck?".
Create a list of questions. Then plan on writing a blog post where you answer the questions each week. Publish them and share them on social media. Use The Snippet Strategy to turn that post into multiple social media updates to really supercharge your mobile marketing efforts.
Mobile is an incredible tool. With a smartphone, we know where people will be spending much of their time. The trick now is to win over their attention by providing answers to the questions they're asking. Use the tips above to build your small business mobile marketing strategy. These are working for others. They can work for you too!