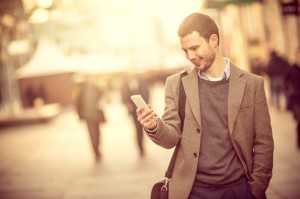 In my mind, mobile is one of the biggest changes in technology as we head into the future.
Companies are still catching up to the fact that tons of people are using smartphones to access information.
Many websites are still optimized for people sitting at home using their desktop computer. That still happens quite often, but more and more people are using other devices to access information.
The biggest issues with mobile right now seem to be user experience (design) and speed. If you want to capture the attention of people using smartphones and other devices you have to give them a good experience and you have to make sure that experiences happens really fast.
If not, those people are going to look for something else. They don't have the time to mess around with something that isn't efficient or valuable.
But don't just take my word for it. Here are experts speaking about the impact of mobile on the future of business.
Hopefully their advice can help you as you plan for the future of your business in the mobile world.
The future of business is in mobility and cloud—and that future is now.
My Thoughts
Microsoft remains one of the most successful companies in the world. They're investing heavily in mobile. They see the demand in the market and are acting accordingly. It should be a sign of where things are going and that it's time to get moving.
Source: Microsoft TechEd: Future of Business is Mobility, Cloud
To compete with younger, mobile-native apps like Venmo, PayPal needed to show its flexibility. Béhar's big goal was bringing the visual identity to a mobile age, and in order to do that, he needed cut out some of the fat.

The new logo has been condensed and modernized without losing the core of PayPal's identity.
My Thoughts
Design is a huge aspect of the mobile change. PayPal started with something important yet basic: its logo. The logo now works better on mobile devices. It's a consideration all businesses will need to make.
Source: PayPal's New Logo Hints at Its More Mobile Future
Early last year, I researched where digital marketing was headed. We created a separate unit in the company called Stuzo Labs to build MEG, a do-it-yourself, one-stop shop to power mobile marketing without needing to hire a programmer or designer. We've begun taking a group of small Philly businesses live and will keep it local this year. Technology is half the solution.
My Thoughts
Companies are doing research to see what the future holds. This company is changing and investing in mobile. They're making it possible for companies to do it with little design and programming effort. Automation is something businesses demand. Those that provide it stand to benefit. It's a void in the mobile market.
Source: They see the future, and it's easy mobile marketing
People work on an emotional level before they go to the rational level. What we're trying to do with banking is create that emotional experience inside the way which images are used, the way we greet and the way we understand how customers bank with us.
My Thoughts
This is very good insight. You have to get to the emotional level of why your customers do things. That's a great place to start when you're moving into mobile.
Source: JPMorgan Seeks Inspiration From Uber as Bank Plots Mobile Future
But I think on mobile, people want different things. Ease of access is so important. So is having the ability to control which things you get notifications for. And the real estate is so small. In mobile there's a big premium on creating single-purpose first-class experiences.
My Thoughts
Zuckerberg talks about an important issue with mobile: space. Your content and experience has to be effective in very little space. Video, another big trend, could help. People can watch a 3-minute video on their phone and it's usually easier than reading a 2,000 word article, at least if the article is using a desktop design.
Source: Can Facebook Innovate? A Conversation With Mark Zuckerberg
Now we are at the beginning, I believe, of a marketing renaissance. We now have the tools and technology to make business personal again and make marketing personal again. Not in the future – they exist now and we're not using them.
My Thoughts
This touches on the emotional side of technology. When you have access to a person's phone you're connecting on a more personal level. Understanding that can allow you to take the business-customer relationship to a new level using mobile technology.
Source: "We are at the beginning of a marketing renaissance"- says Facebook's Tracy Yaverbaun
Mobile devices are going to play a huge part in the future of customer experience, loyalty and payments.
My Thoughts
That just about says it all. For many people, the Internet is their mobile device. They don't use computers.
Source: More targeted approach from Fly Buys
Business systems are becoming more integrated, boosting productivity and saving time and money. But that interconnectivity brings greater vulnerability. Businesses need strong, secure networks, and reliable, flexible Internet connections (with watertight SLAs) if they want to be prepared for the future that awaits them.
My Thoughts
Businesses can fight with employees that want to bring their mobile devices to work, but it's a losing battle. Figuring out how to make it safe is the better approach to take. In fact, it will probably help you when employees bring their own devices.
Source: Your 5 Step Guide To Solving The BYOD Headache
Google reports that 48 percent of all local, mobile searches result in a phone call. That's nearly half of all mobile searches. That's huge. And according to BIA/Kelsey, in 2016, mobile search will drive nearly 70 billion inbound calls to businesses. This creates a massive opportunity for businesses in the mobile space.
My Thoughts
This is an important point. One of the biggest aspects of a mobile device is still the phone call. People still use their phones to make calls and that's true for many businesses. Yet many businesses ignore this fact. It's an opportunity for you to make the information and calling experience very easy and comfortable for your target market.
Source: The Mobile Future Demands Marketers Get Back to Basics
Every business knows they have to render their service through mobile devices to reach the consumer as they want that direct relationship, whether it's banking, retail, or telecommunications. So now systems have hundreds and thousands of users and therefore they have to deal with more data. The transition will happen from now to 2020.
My Thoughts
It's already being assumed that every business will need a mobile solution to satisfy customer demand. Those companies that ignore it will likely get passed by current or new competition. It's an opportunity. Either you take it or something else will. Part of the requirement is handling all the data.
Source: Mobile future will force business into the cloud: EMC