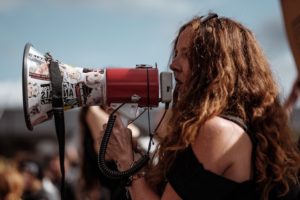 Influencers are people that have influence over a group of people.
For you and your social media strategy, that means influencers are folks in your industry that have a following on a social media site. Sometimes an influencer will have influence on multiple sites, but usually they focus on one.
If you're looking to grow your own profile it can help to interact with influencers.
They have an audience already. It's an audience that is made up of your target customers. The trick is interacting with the influencers in the right way so they expose you and your brand to their followers.
As you might imagine, it's not usually as easy as just getting a retweet or mention.
Now let's get into some ways to interact with influencers as a way to grow your own social following.
Tip #1. Share Their Content Regularly
This one is tricky. If you share the influencer's content too often they're going to think you're stalking them and they might block you or see you in a negative light.
However, everybody likes having their content shared. So if you share their content on occasion, say every few days depending on the size of their following, it will be appreciated. And as time goes by some influencers will notice that you're sharing their content and they'll be more likely to pay attention to what you're sharing.
And if what you're sharing is intriguing to them they'll check it out and possibly share it with their followers.
Also, don't just share their content. Let's say they do regular YouTube videos. It's good to simply share the post using the title and URL. It's great to create your own title, maybe adding your thoughts and a couple hashtags that will help the video reach an even wider audience.
It will take you a few seconds to do that, but your share will stand out because others won't take the time to make that effort.
Tip #2. Leave Thoughtful, Long Comments
This one can work really well. Most influencers have some kind of property of their own like a blog, podcast, video channel or something similar. Most comments that they'll receive will be some version of, Love it!, Great post! and all those types of things.
Those comments are fine. There's nothing wrong with that, but they don't really stand out and they don't really add anything to the original content. If you've ever gotten a comment on your blog pst you know the feeling.
A thoughtful, long comment really stands out and influencers love them just as you would love them.
You don't really want to get too critical of something the influencer said. Take what they've said and build on the idea. Maybe tell a story of yours that kind of reinforces what they've been saying in their original post. If you help them make their point then they'll see you as an ally and that's always a good thing.
Let's say the person is an influencer in the fantasy football world. They write a post sharing their 5 steps for using the first pick in the draft. You tell the story of how you have used the same steps and won your league.
Tip #3. Ask Them Questions
Influencers do like helping people. It makes them feel good and it makes them look good in the industry. They might not have the time to answer all the questions that come your way.
There are basically two ways to get your questions answered by an influencer.
First, you catch them at the right time. Some influencers will ask for questions with a little Q&A session while they're online. Some will ask for questions for them to answer in podcasts or videos or blog posts.
Second, you ask questions that are unique and really stand out. It's hard to define a "great" question. One way to see what an influencer is interested in is to see what type of questions they've responded to in the past. Asking something similar is a good place to start.
If your first question isn't answered. Try another one in a few days. If you don't get an answer it's more likely they didn't see it as opposed to them ignoring you.
Tip #4. Support Their Businesses, Brands, Organizations
Most influencers will have some kind of business venture. Some will have multiple. They'll promote these efforts on their social channel. They appreciate you helping to promote their businesses more than they appreciate you promoting them.
If they have a business social account, follow it, re-share what they share and help bring some attention to the business. Become a customer and share a review. Use the product. Use the service. If you're an early adopter there's a good chance the influencer will pay attention to you.
Tip #5. Make Them Look Good To Other Influencers
I saw this tweet the other day and it's a good example of how you can make influencers look good to people in the industry:
He's just copying @LanceZierlein, who did it this morning. ;) https://t.co/HFPGSuMBLz

— Aaron Nagler (@AaronNagler) April 14, 2016
Maybe another influencer in the industry makes a statement, but the influencer you want to connect with made that statement a while back. You can make them look good by stating the fact. You know the influencer would want to say, "Hey, I said that first", but it would make them look a little petty.
But you can help them out.
That's one way to make the influencer look good. You can do it in other ways by pointing out their successes especially the ones that aren't getting attention already.
Think along the lines of, "Hey, if you haven't check this out you've been missing out…"
Tip #6. Ask About Partnership Content
You'd be surprised at how open influencers are to creating content with others. They have the audience so you'll likely have to put in the work to create the content.
Look at what the influencer has created. Maybe they create blog posts or ebooks. You could see what topics they've done already and find one they have yet to do. Then put together an outline. Reach out with something like:
Hey, big fan of your work. I see you haven't covered this topic yet. Would you be interested in creating it together? I have this outline so far. I could do all the work on the content with your input and direction. You can publish it on your site with me as the co-author.
Tip #7. Make Them Laugh
Sometimes a good laugh will make an influencer re-share what you're saying. It's tricky to be funny, but if you nail it down it can be a great way to get exposure to an influencers audience.
Pay attention to what has made the influencer laugh in the past. Then look for your opportunities. GIFs can make people laugh. Funny stories can make people laugh. Pointing out something obviously ridiculous in a situation can make people laugh.
Conclusion
Connecting with influencers can be a great way to build your own online following. The influencers have established audiences and if you find ways to interact with them they can give you exposure to that audience and some will likely become your followers. But you have to approach this in the correct way. The tips above are some of the ways that can work really well.