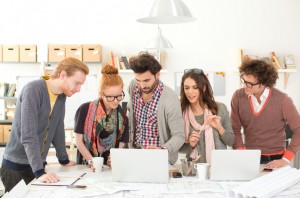 Think of your website as your online salesperson.
This person is working to sell your service to target customers all the time.
Every single time someone visits your website it's an opportunity to make a sale.
Ghost Blog Writers has gone through a handful of redesigns in the last 4-5 years. With each redesign, I've tried to give the "salesperson" more information so "they" can do a better job.
The first step in the online sales process that I see most is the discovery step. Someone has to find out about your business. For us and many of our clients the discovery phase comes after someone reads a blog post. From there we find that people go to the Homepage and then to the Services page.
So the Services page comes toward the end of the sales process. On our site, it's the last page that does the converting so someone contacts us about blogging.
Here are a few key lessons I've learned about improving your small business Services page so you get more sales and have customers ready to move forward as soon as they contact you.
1. Put Your In-Person Sales Conversation On Your Website
Each time I've updated the GBW website I've focused on the conversations I've had with customers. These conversations would happen either via email exchanges or on the phone.
I kept noticing that prospective clients would ask the same or similar questions.
It's not that I got sick of answering the same questions over and over, but I realized that I might as well answer those questions on the website including on the Services page.
One question that kept coming up was if our clients owned the content we created for their blog. The answer is yes, they do. So I put that on the Services page along with the answers to other questions.
Chances are you have the same or similar sales conversation with all of your prospective clients. Take that sales conversation and put it on your website. Answer all the questions your clients usually have.
Early questions go on the Homepage. Later questions go on your Services page.
2. Even If The Content Is Clear, Make It Simpler
The tricky thing with your website is that you're going to get really involved in the content and the design. You know what you want your customers to see on your Services page, but they will be seeing it for the first time (most likely).
That's a hard concept to grasp when you've looked at the Services page about a hundred times. It's easy to take things for granted.
This happens to me still. I'm always fighting myself to see the page as a prospective client.
What I've learned is that even if the page looks simple to me, it might not be simple to someone that is seeing it for the first time.
Some things I've learned are to limit calls to action to one main call to action. On our Services page, the main call to action is to Contact GBW. The only other places to click on the page are in the top navigation and in the footer. And these links do not stand out.
3. Focus On What Your Customer Really Wants
This is one I learned from a sales consultant I worked with for a while. They helped me understand that we provided blog posts and that some of our clients obviously want blog posts, but what they really want is more sales for their businesses.
So now we sell them more traffic and more sales. That's really what our blog posts can offer them. It seems that our clients now are more eager to get on board after reading about that on our Services page.
We try not to be misleading or anything like that. We want our clients to know that blogging is a long-term strategy. We don't want any short-term clients. That's not good for them or for us.
But we do talk about what they really want on the Services page.
Bonus: It's Always Your Fault If Someone Can't Figure Out Your Website
This one is hard to remember.
It used to frustrate me when a prospective client would ask about our prices.
I would think, "Our prices are right there on the Homepage and on the Services page."
But then I realize that it's not the client's fault that they didn't see it on my site. It's my site after all. It's my job to make sure they can find all the information they want before reaching out.
With this in mind, you force yourself to provide answers to all common questions and to do it in a way that makes it as simple as possible.
It's surprisingly difficult to make a website simple, but it's worth it if you keep tweaking your Services page all the time.
Conclusion
I like to think of all pages on a website, including the Services page, to be living. They're always going to be changing. It's better to make a few tweaks every 3-6 months than to do entire redesigns all the time. You're always going to learn from your clients. You're always going to see new common questions from prospects.
Keep adding the answers to those questions on your Services page and always look for issues and ways to make the page better.
It will lead to more sales for your small business and new clients that are already sold by the time they contact you.