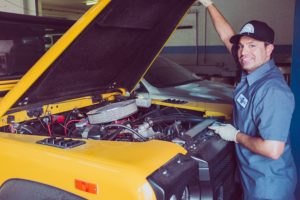 Local businesses have a lot of unique ways to generate new sales.
Some are modern like social media.
But some are a little more traditional and still work great.
This is one of the traditional ways. And it's really not just for local businesses, but that will be the focus today.
The method is building relationships with other local businesses. Those that share similar customers, but that also could even be competition.
Your customers do business with a lot of companies in your area. When they're at those places of business they sometimes ask for advice on referrals.
Even with the Internet it is still reliable to ask someone for a referral. For a restaurant. For a mechanic. For a dentist. For a whatever.
You want to be the business that is being referred.
Sometimes you can form a relationship quickly. Other times it takes a little effort and patience. Whatever the case, it's usually worth it.
Here are a few tips…
1. Complementary Businesses
This is a big one.
Open the yellow pages. Or open Google Maps on your phone and start looking at the businesses near you. Look for ones that share your target customer.
If you're a mechanic, look for car washes, used car lots, auto part stores, towing companies, etc.
If you're a dentist, look for realtors, colleges, large businesses with lots of employees, etc.
If you're a restaurant, look for colleges, businesses with employees, local events, movie theaters, etc.
The idea is that when people are at those complementary places they often ask for your service or product. You want to be the one that is referred.
Go to these businesses. Talk to the owner or manager. Ask if their customers ask for a service like yours. Ask who they recommend. Ask why they recommend them. Ask if there is anything you can do to earn their recommendation.
Offer to give them, the owner or manager, a free sample so they can trust you. Offer to send them business and then actually send them business to show that you're serious.
This is where things could happen quick while other times it will take a little time.
2. Competitors
Don't write this one off. It may seem odd, but there is business to be had in these situations.
Let's say you're a dentist. Maybe you specialize in kids. Or maybe you specialize in those over 65 years old. That can often differ just a little from the competition and if they can't serve a customer they still want to give them a recommendation of somewhere to go.
And that can be you.
There is another common scenario and that is overflow. There are often businesses that have too much going on and they don't want to grow right at this moment. You can have a friendly competition with them, but take on their overflow.
A dentist may not be taking on new patients. An auto shop may have a full slate for the next month. These situations are very common. Manufacturing is another one where a business may not have capacity and they will send opportunities your way.
But the key to this is to be nice. You have to be good at what you do so the person can trust you with their recommendation.
3. Offering Something Special
Having a good service is a given. But you may have to do more for the other party when starting out as you work you way toward earning more referrals.
Giving away your product for free to the managers and owners is one. You could also offer a discount for people that are referred from certain businesses.
Let's say you're a new auto shop. Hit up the car washes and gas stations nearby. Tell them that any customer of theirs that needs an alignment can get a 20% discount. And also say that if any customer of yours spends over $300 that you will give them a car wash and a tank of gas for free. You can work out a deal with the businesses. Maybe they cover half and you cover half or something like that.
Conclusion
This is one of the oldest tricks in the book when it comes to local business marketing. It's just getting out in the community and meeting other business owners. They have customers. You're looking for customers. Their referrals could lead to steady streams of new customers through your doors. But it takes effort. It often takes offering something special. But it's all some of the best money you can spend.