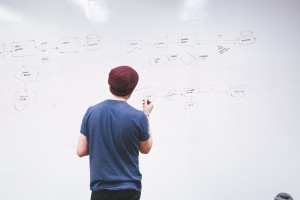 In general, more content leads to more traffic.
It's something that all website owners realize.
If you have just the basic pages on your business website and don't do any advertising you're not going to get much traffic.
If, however, you create content then over time you'll build traffic. Each piece of content attracts content and that adds up over time.
And as you build content it builds the reputation of your overall website and that leads to better rankings for the main pages on your site for important industry keywords.
So you know that you need more content on your website in order to get more traffic, but maybe you're tapped out on how much you can write. Maybe you pay for a writer or two to create ongoing posts.
But maybe you also want more. You want guest bloggers to write for your business blog.
That's a good idea, but putting up a "Write For Us" page won't be enough. It's a good thing to do, but doing outreach will get you the writers you want.
Here are some tips…
1. Reach Out To Guest Writers On Popular Websites
This is the best way to get guest writers for your blog. There are some people out there that know they can get traffic to their websites by writing guest posts on popular websites. These people are actively looking for good opportunities to write posts that can get in front of new people that fit their target audience.
You can help these guest writers out by reaching out to them. It saves them the work of finding guest posting opportunities. And that can be a lot of work. They'll be happy that you're reaching out.
However, it's up to you to make sure that the audience on your business blog matches the audience that the person is trying to reach. So help them out by adding some qualifying information when you reach out to them. Tell them who your audience.
To contact these folks you can usually find a contact form or email address on their personal websites. Google their name or if you find a guest post you'll usually see a link to their website or business website. That's a great way to contact them or you can use a tool like Email Hunter.
2. Reach Out To Your Favorite Writers On Your Favorite Blogs
The next step is to reach out to your favorite writers on your favorite blogs. This requires you to be an avid reader of blogs and online magazines and things like that.
If you haven't been doing this then seek out a handful of blogs to read regularly. Subscribe to their new posts and read for a few weeks and look through the archives.
Once you identify the writers you like the most then reach out to them and pitch them on the idea of writing for your business blog. The appeal will be in who your audience is and the fact that your audience is also the audience that the writer is looking to attract.
When you reach out be specific with posts that you've liked that they have written. Tell them why you liked those posts. Tell them how you think a post on that topic will really be popular with your audience.
It's also key that these writers be active. Make sure that they're blogging regularly. This will make it more likely that they'll be able to and will want to write for other blogs.
And also make sure you allow them to link back to their blog and to talk a little about what they do.
3. Reach Out To New Writers With New Blogs
If you're struggling with the first two (and that's possible because those writers are the best of the best) then you can also look for new writers on the scene. These will be the ones that are good writers with a good style, but that are really looking to build their audience.
When I first started blogging I felt like I had some good things to say and to share, but I was really trying to build my audience. I would reach out all the time trying to find guest blogging opportunities. And when someone wold reach out to me about writing for their blog I would jump on it instantly.
Find the new writers on the scene and you'll usually find people really willing to write a guest post.
4. Reach Out To Clients & Customers
This one will be more difficult, but I have seen it work and work well. Reach out to your current clients or customers and ask if they've been looking for guest post opportunities. Sometimes you'll find that they have ideas for a blog post, but that they haven't had a place to publish those posts.
Or you can reach out after a conversation about something in the industry and let them know that you really think they have some good things to say on the subject and that you think a blog post would be a great way for them to showcase their expertise.
Tell them about the audience. Tell them they can talk a little about their business and what they offer. And help them for a blog post that will answer a question that the target audience is asking.
Be careful on this one to not let the post get too much into the advertising form of blog post. The post shouldn't be a case study or an ad for the client's business. You want to stick with giving tips and advice on something the target customer is struggling with.
Let's say a dentist has a customer that is an optometrist. Chances are that they have some of the same customers and same target audience. Most people need healthy teeth and healthy eyes.
The dentist has a blog and while cleaning the optometrist's teeth they have a conversation. The dentists asks the optometrist if he would write a post with a few tips on eyesight. That would make a great guest post.
5. Reach Out To Guests On Podcasts
The final tip is to reach out to guests that you think do a great job on podcasts in your industry. If you're not listening to podcasts in your industry then search for search for "[your industry] podcast" and start listening. Once you find a guest that you like then search for "[guest name] podcast" and you'll probably find more podcasts that they've been on.
When you like one guest then reach out to them. Tell them you heard them on a certain podcast and ask if they would be interested in writing a guest post.
Some, not all, but some of those guests on podcasts also write guest posts. They're guesting on podcasts to bring traffic and awareness to their business. Guest podcasting and guest blogging are very similar so odds are that some of these guests are doing both and looking for opportunities to do both.
Conclusion
These are some of the basic ways you can do some outreach to get some guest writers for your business blog. Put this into your regular schedule, say 5 outreach emails a week, and over time you'll start to get a steady stream of new writers and more content for your business blog. That will add up over time and will bring in more traffic.
Test a few different ways to reach out. I like to keep it simple and specific. Mention how you found them. Tell them that you liked their content and ask if they would be interested in writing on your blog. Explain why it would be appealing to them and ask again if they'd be interested.
Do that and do it regularly and you'll be in great shape with guest writers.