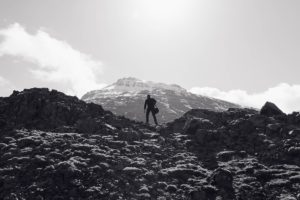 Professional golfer Padraig Harrington recently won on the European Tour.
It had been 8 years since the Irishman had last one on that tour.
Padraig became one of the best golfers in the world during the 2000s and won 3 major championships in 2007-2008. He was at the top of his game, but then things took a little bit of a slide.
The last few years it's been interesting to listen to Padraig in interviews. He's very insightful. He's very interested in digging into the human brain and how the mind works.
Padraig has now won a couple of times in the last few years and it seems like he's figured some things out about the very mental game that is golf.
The Pursuit Of Perfection
One thing Padraig has been talking about lately is the idea of perfection. He talks about it in relation to golf, but it applies to many areas of life.
Padraig has said recently that he's changed his perspective on hitting bad shots. He said that he noticed that lately he'll play in Pro-Am events and he will hit a ball off line in the thick rough. He brushes it off and starts thinking about the next shot.
Then Padraig notices that if his playing partner will hit it in the same thick rough off the tee and then begin to get very down on him or herself.
The takeaway is that nobody hits perfect shots all the time including one of the best players of all time. The thing to do is accept that you're not perfect. Accept shots and move on.
Perfection seems like a good goal, but it's not quite that simple.
Perfection Can Be Destructive
Another way to look at perfection is the line of thinking that something is either entirely one way and if not it's entirely the opposite.
You're either with me or you're against me.
Another good line is:
That attempt didn't work 100% so it's a complete failure.
You can see how that second one applies to golf. If the shot is not perfect it's a complete failure. Obviously that's not true and Padraig seems to have figured that out over recent years.
The idea found in that article linked above is that it's better to accept progress. Understand that you're not going to go in a straight line toward success.
But take time to look back and appreciate progress even if it's small. You might take steps back sometimes, but look back on the long-term and you'll have a better idea of how far you've come even if you haven't reached your end goal just yet.
Doing Your Best When You Don't Have Your Best
The next challenge, though, is doing your best when you don't have your best.
Tiger Woods, another golfer, was the best golf when he had his best, but he was also often the best golfer when he didn't have his best.
Tiger often spoke about winning with his "B Game". That frustrated a lot of other pros because they saw it as arrogant, but for Tiger it was true and it's what he worked for. He understood that most of the time he wouldn't have his absolute best game. He accepted less than perfect shots. He was always moving forward and he looked for ways to keep improving every little aspect of his game.
It would be wise to model your approach to life and to business like Tiger approached golf.
Here are some tips on how to do that.
Tip #1. Focus On What's Most Important
Mark Broadie has become the expert on golf statistics. He looked into the most important areas of the game.
There are four main areas of golf:
Drive
Approach
Short Game
Putting
Broadie has found that the Approach area is the most important. It's usually where the biggest gap exists between pros and amateurs and also between good amateurs and poor amateurs.
Then I think it's actually driving that is the next most important area.
The takeaway?
If you're a golfer, work on your iron game and get better there to see the most improvement. Also work on your driving.
You can certainly work on your short game and putting. You don't want to be bad in those areas, but there is more potential for improvement in the other areas.
What's the takeaway for life and for business?
It comes down to what's most important for your business to succeed. A simple example might be cost cutting and sales. You can focus all your efforts on cutting costs. That could have some good results, but eventually you'll only be able to cut so far.
On the other hand, if you focus most of your efforts for improvement on sales you really don't have a cap. There is often a lot of room for improvement.
And even within sales there are many opportunities. You could test a few and see what shows the most potential and then focus most of your effort there.
The more you improve in the most important areas the more improvement you'll experience.
Tip #2. Focus On What You Do Worst
Mark Broadie has said in a few articles that the best players often improve the most when they work on the worst part of their game. An example would be Dustin Johnson. He has been incredible driving and with his approach shots. But he's struggled, relatively, on short approach shots and with putting.
But recently he made improvements in his short approach shots and his putting. As a result, he had his best year ever.
The takeaway here is that it's often more enjoyable to do the things you do well over and over. Dustin Johnson probably practices driving the golf ball because he's the best at it and it's probably fun for him. But he didn't really have a breakthrough until he focused on the worst part of his game.
Again, "worst" is relative. He's a pro and obviously a great putter, but relative to other greats in the game it's an area where he struggled. When he improved even a little bit he was able to be dominant.
The lesson here is that if you're going to improve in business that it's good to focus on where you're the worst. You're probably good in some areas and poor in others. Focus on the most important area first, but then focus on what you do worst.
Tip #3. Aim For Improvement, Not perfection
Finally, the big takeaway in all of this is that it's important to aim for improvement and not perfection. If you pay attention to the best athletes in the world they'll often talk about improvement. They talk about process. They rarely talk about achieving perfection.
Often, they don't even know what perfection is. They just keep pushing themselves to get better and better and really don't have an "end" in sight.
That's a good way to approach life and business.
Get a little better each day. Focus on the tasks each day that will help you get better.
You'll ultimately take steps back, but when that happens take a second to look back at the last few months and see how far you've come. And use it as an opportunity to audit what you're doing every day and you can make adjustments to get back on the track of improvement.