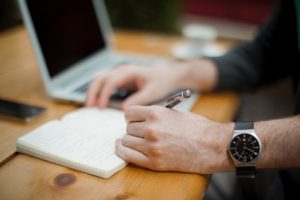 Did you know that you can do online marketing without social media?
There are a lot of reasons to use social media as part of your online strategy.
But a lot of brands are doing that.
When the crowd goes one way it can pay off big to go the other.
Here is one stat to consider:
96% of the people that discuss brands online do not follow those brands' owned profiles.
Pretty crazy, right?
Let's step back for a second and see how you could do online marketing without social media.
Note: This will be about inbound tactics more than online advertising.
Step 1. Your Website
When you take social media out of the picture it clarifies the idea of "property" online.
In social media, your profile or your page is the property. And it's really owned by the social network. They just let you create your home there. They get to own your content and your attention and your audience's attention and in exchange you get access to their audience.
If you don't use social it leads to more focus on your website. Which you own and control.
Now, the big challenge is that you probably don't have as many people that know about your site as compared to Facebook or Twitter.
But the potential is still big.
When it comes to your website I like to start with the idea that your website is your online salesperson.
Document your sales process.
Then use that document to outline your website.
Then add a content element, which will bring people to the website.
Step 2. Your Content Strategy (SEO)
It could be a blog. It could be an ongoing video series. Or maybe podcast series. Guides. Whitepapers. All kinds of things.
When you create content you're looking to answer the questions your customers are asking. This aligns your goals with Google's goals.
And in the long run that leads to SEO traffic.
Go into your content strategy assuming that readers don't even know that your brand exists. It's less about selling your brand and more about answering their questions.
For example, you own a dentist office. A potential question your potential customer is asking could be:
What is a root canal?
The answer can be the content you publish on your site that they will find via Google.
Now, it's important to remember that this takes time. Google needs to see that you're providing value. They need to see signs that you're trustworthy and worthy of rankings.
These signs tend to come naturally over time, but we'll talk about something you can do in Step 4 to help.
Step 3. Email
Email is a way to capture more information about your visitors. It's permission marketing where your visitors that opt-in give you permission to communicate with them again in the future.
When you're not on social media you're not focusing on getting followers.
Instead, you can focus on getting subscribers. And the great thing is that the inbox is generally more powerful than the News Feed.
You get a more meaningful connection with your subscribers.
Here are some tips for getting more email subscribers.
Step 4. Guesting
You might have little or no audience on your website.
You have to go to where the people are in order to get their attention.
In our scenario, social media is out of the question.
So where can you go?
Well, social media didn't really exist 10-15 years ago. But people still went off their property to get attention.
One way is guesting.
Today it might be guesting on a YouTube video series. Or guesting on a podcast. Or writing a guest post.
It's like in the music industry. There are headliners and opening acts. The opening acts are there for the access to the audience. They might get paid, but mostly they're there to get access to the headliner's audience.
They want to win over those fans.
That's what you have to do to introduce yourself to potential readers, subscribers and customers.
Step 5. Old School (Forums, Message Boards, Chat Rooms)
This is kind of like guesting and also a little like social media.
Forums, message boards and all those old school things still exist and some are very popular.
If you can build a solid reputation in these places you can earn attention and get people curious about you and your business.
Again, this takes time. If you're going to do it make sure to commit to regular posting on these sites for a number of years.
Sound challenging?
It is. And not many do it. But that leaves opportunity for you.
Don't go on these sites just posting links to your site.
Go on these sites looking to provide value. Answer questions. Provide insight that others have overlooked.
That's how you earn interest and trust. And it also leads to curiosity about who you are and what you do. That's when you get people coming back to your site.
Conclusion
You don't need social media to succeed online.
In fact, now that so many businesses are using social media marketing it can be advantageous to focus your attention where others are overlooking things.
Get back to basics. Focus on your site. Your content strategy. And guesting as a way to build your audience.
It's a strategy that can pay off big in the long run.