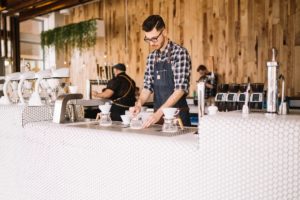 SEO is tricky.
I feel like the nature of SEO leads companies down the wrong path.
The more one tries to please Google the more they struggle.
If you pay attention to how Google ranks content it leads to issues.
If you pay attention to why Google ranks content it can lead to success.
So why does Google rank content?
They've said it many times including in this blog post:
In Google Search, our goal is to help users quickly find the best answers to their questions.
Pretty simple.
Google cites their goal just about every time they make an update or change. They're always looking for ways to improve upon answering questions that people are asking when they use Google Search.
Think of how you use Google…
When we search for something we're looking for the best. We're looking for the best answer. We're looking for the best business. We're looking for the best product.
SEO for Algorithms
For a long time, Search Engine Optimization or SEO has been a confusing term. It seems that the term has developed negative connotations.
That's understandable because for a few years some folks figured out how Google was ranking information and they were motivated to improve in those areas.
One area is with incoming links to your content from other sources. When some figured out that links were important it led them to get as many links as possible. That naturally led to getting links from any source in any way possible.
And for a while that worked.
Let's back up for a second…
Why links?
Well, look at the link I used above to the Google blog post. That's an indication that the Google blog post is a valuable resource.
Google used and still uses links as an indicator of the best content.
More links means, at least in some forms, better and more respected content.
In recent years, though, Google has improved the way they identify and rank the best content. Links seem to be important, but Google is better at analyzing links along with other indicators.
But it really doesn't matter how Google analyzes things.
What matters is why they're doing it in the first place.
SEO Strategy: The Best Answers
Google provides a valuable service. They're probably the best at it right now.
They provide the best answers possible to the questions people are asking or searching for online.
So the best way to approach SEO it seems is to almost forget that Google exists. Focus on what people are doing and why they're doing it.
Actually, you just need to align what you're doing with what Google is doing.
With your website, with your content, with your online marketing…try to be the best.
With content, like a blog post, try to provide the best blog post on the topic you're writing about. What does "best" mean?
Helpful could be a good term. Useful could be a good term.
Maybe it's not about providing only the best answer, but also communicating it in a way that's easily understood and actionable.
Let's say people are searching for information on brushing their toddler's teeth or just about general care for their toddler's teeth.
Two sites might have the same great information to answer the question. But one could do a better job of explaining the information, making it actionable or easy to implement.
In this scenario that second site would probably be the best result because it's most helpful to the people asking the question.
Reputation & Trust
Your mind might be kind of clicking into high gear now thinking about all the signals that go into the idea of the "best answer".
For example, if you're a dentist and you want to be the best dentist in your area there are a number of different signals to prove that you are in fact the best dentist.
How do you show that you have the most customers, the most happy customers?
Links are probably one form. Online press coverage. Reviews are probably another. Maybe you have a library of content like blog posts and videos and more that get lots of views and engagement.
Marketing for SEO
I buy into the idea that the "best" at something usually needs marketing support. I like to look at the music industry as an example.
The "best" artists don't always become the "best" in the eyes of the general public. It's really difficult for people to just discover an artist without some kind of marketing. Some people will, but marketing is almost always necessary to reach the masses.
The best artists that have backing from a powerful marketing machine are usually the artists that become stars.
It's not enough to be the best if people don't know you're the best. That's where marketing comes in.
Marketing comes in many forms:
Content
Partnerships
Public Relations
Website Design & Structure
Email
Social Media
Paid Advertising
And more…
Final Thought
So what's the big deal with SEO?
You can just pay for the top spot on Google.
Well, the reason SEO is still as important as ever is that people like clicking on those organic or natural links. This study estimates that 94% of clicks on Google's results are on the organic listings.
There are lots of variables, but in general it seems to be accepted that people prefer organic listings.
Think about it…
If you want the best dentist do you want the dentist that paid for the top listing? Or do you want the dentist with the most indicators that they are, in fact, the best.
The big takeaway here is that when you align your business and marketing with what Google wants you'll be setting yourself up for success.
Is it easy to provide the best answers to questions and to be the best?
Definitely not.
But if you pursue that goal you'll likely see positive results even along the way to becoming the best.