Look to Hire People with Blogging Experience
G. Michael Maddock and Raphael Louis Vitón recently published two articles over at Business Week. The articles discussed the kind of people business managers should look to hire (and look to fire).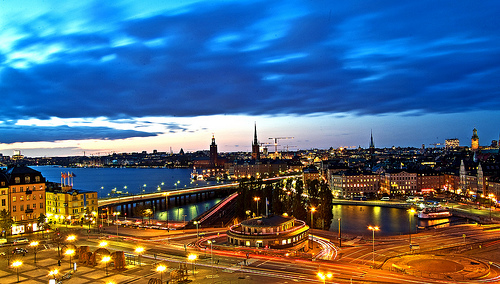 Blue Hour courtesy of hector melo
Read the articles for some great info. It's worth a few minutes.
The content in the articles got me thinking about what other kind of traits business leaders should look for in future candidates. Something many businesses are looking to do in the future is to maintain a company blog. The blog is likely a way to optimize the long-term customer relationship with the ultimate goal of increasing long-term profit.
As a result of this blogging initiative, companies need to find the right people to fill these blog writing needs.
How to Hire Bloggers
The type of people in the articles are interesting. In the three types of people you should hire article there is mention of the folks that are self-driven, experimenters, and problem solvers. These folks are always good to hire and I think a few of the traits are often found in bloggers.
If you're looking to hire someone for a project manager or marketing type position it might be worth looking a little longer to find someone with blogging experience. If a person has a personal blog or manages some kind of website on their own it shows they have the drive to maintain something on their own.
Most personal blogs don't bring in money, but the folks that maintain them are driven by other reasons. Keeping a blog and personal website updated gives this person some satisfaction. They are driven by improving their personal writing and marketing skills. They are driven by experimenting with ways to increase their site's traffic. They are driven to network with others in the blogosphere.
I think businesses can benefit from hiring folks that maintain a personal blog. The blog could really be about any topic. As long as the person shows they can maintain it for a pretty long period of time (3 months, 6 months, a year or more) it will prove that they are committed to something and will likely be committed to your company's initiatives in the future.
On top of this personal drive, hiring a blogger will also give your business an advantage with your company blogging strategy. A blogger can bring some writing skills to the team and share their experiences with others to help form a strong blogging strategy.
Blogging is one of those things that just takes practice to learn. Someone that has experience testing different blogging formats and seeing how people react to content will be a huge asset for any company in the future.
If you're looking to hire the right people for the future check out the articles above for their great advice. But also consider hiring someone with blogging experience. They possess some of the same traits that most successful people have. It could also benefit your business and its long-term blogging and content goals.