Was there a Google Panda Redux last week?
It appears there were some major changes once again to the Google situation and it had some implications for bloggers. Last week I noticed traffic starting to pick up once again on Country Music Life and I was first curious, then excited, and then back to cautiously optimistic.
This morning Search Engine Land released two very good articles on the entire Google Panda situation:
Official: Google Panda Update 2.2 Is Live
Some webmasters found themselves breaking out of the Panda filter and ranking better again, since being hit on Panda 1.0 on February 24th. Whereas others were hit for the first time, now suffering from the Panda filter.
As Google's Cutts explained, 2.2 was to improve scraper detection and that these Panda updates are pushed out manually.
Why Google Panda Is More A Ranking Factor Than Algorithm Update
Panda — like PageRank — is a value that feeds into the overall Google algorithm. If it helps consider it as if every site is given a PandaRank score. Those low in Panda come through OK; those high get hammered by the beast.
Google Panda Redux
So was there a Panda Redux last week as the first Search Engline Land article suggests?
One of my personal sites, Country Music Life, seems to have been giving a little life once again and it started last week as SEL mentioned. Here is the background.
Here on GBW I wrote about the experience with Panda:
Sometime around 1pm central time the traffic to CML from Google was cut by about 80%.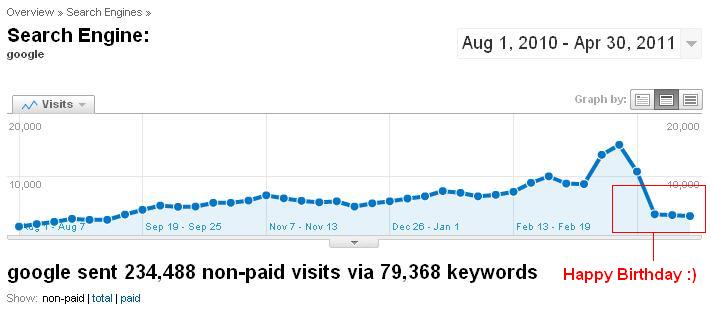 The change confused me. Obviously my expectations for traffic from Google had increased over the year as Google continued providing traffic. I figured I was doing something right. That assumption turned out to be incorrect.
Flash forward to today and traffic appears to have recovered.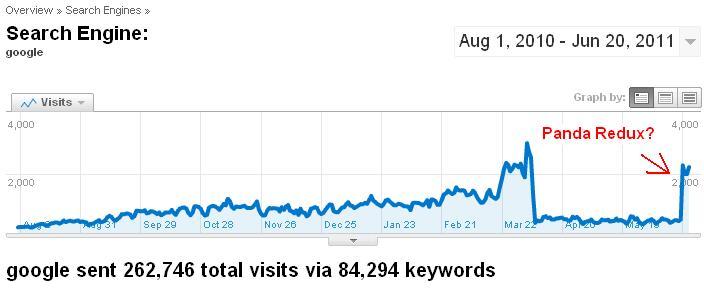 I can't say for sure what caused the folks at Google to change their mind, but whatever the reason things appear to be back to what was somewhat the norm Pre-Panda.
As others have mentioned, I still feel uncertain about the traffic from Google. I, like others, aren't sure how long this change will last.
My perspective on Google has damaged over the last few months. When there isn't consistency in life I think it's natural to look for more stable activities. When things happen such as they did with traffic in the above chart is can wear you down.
But never be completely down and out I still feel there are positives from this situation.
It's important to focus on:
Building community
Building variety in traffic and revenue
Re-evaluating expectations
The goal of CML is still the same – provide unique perspective on country music songs and artists.
The key is understanding that blogging is about more than traffic from Google.
Blogging is about community, a variety of new traffic drivers, and ultimately selling something worthwhile to an audience.