Marketers Prioritize Content Over Social in 2013
It looks like marketers around the world are looking at content as a priority in 2013 per a new report shared on eMarketer.
Over the past couple years social media has been the priority, but now things are shifting toward content.
Let's backup a minute first.
Here are some articles from the previous year or so on GBW:
Social Media Risk? Not For Companies That Blog
What Happens To Your Business If Facebook Disappears?
Is Facebook Really Working For Your Company?
Marketers Are Leaving Facebook…For What?
Earned Media On Facebook? How About Earned Media On Your Own Site?
Daily Twitter Use Rise and That Means Opportunity for Bloggers
Mark Cuban is Giving Up on Facebook
Are Facebook Pages Even Worth It?
Is Google+ Really The Best Social Network?
This is an important subject.
Where you invest online matters for the success of your company. Many have invested in social media and it can be frustrating. You're counting likes and followers and shares, but at the end of the day you need sales and profit.
What seems to be happening is a shift from social media at least a little bit to a focus on content. The content is something your business owns no matter how the Internet landscape changes.
Here is the research from Content Vaults to No. 1 Marketing Priority for 2013: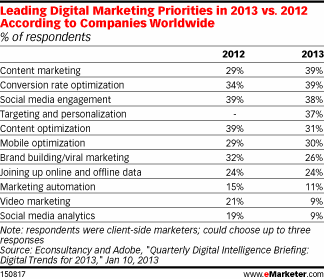 This study was given to client-side marketers, which is even more interesting because the early reward for content marketing is definitely on the side of the B2B world.
You can invest in content like a blog for a year or two and then see the return as new clients come in.
The targeted customer finds the content via a few referral channels like search, social and word of mouth. As for social see the article about Twitter linked above. That is how you can use social media to build your own audience.
The customer finds your content and it earns their trust.
From there they purchase your goods and services.
It's very much liked Educational Marketing instead of Content Marketing. You're teaching people how to do things and earning their trust. Once that trust is earned they are very likely to purchase products and services that make their lives easier.
Content is important in 2013 and in the years to come. Marketers around the world are realizing it.
How are you investing in your future?
Social media?
Or content?