There are two big items in email marketing going forward.
Both really aren't a surprise, but one is fairly new and the other is a timeless strategy that has made email successful since the beginning.
The findings come out of a study shared on eMarketer that looked into trends in email marketing and what that means for businesses that use email to sell to customers.
Mobile Email Is Growing
The study, The Future Of Email, first looked at the impact mobile would have on the email landscape.
Here is the big section of the article that touches on mobile and what it means for businesses:
Mobile email's share of all opens grew 5% last quarter to claim 55% of the total.

As a result, revenues generated via mobile grew 52%, compared with 18% for desktop.
Desktop is still a huge part of overall email marketing, but mobile is gaining. In fact, most of the gains are coming from mobile.
But this doesn't mean that email marketing is growing. The more likely situation is that mobile is starting to cannibalize desktop. The overall economy generally doesn't grow that much. When we talk about things in marketing and sales growing we're talking about them taking marketshare away from something else.
So in this case, more people are using smartphones and fewer people, in general, are using desktop email.
Action Step: Continue to invest in email marketing. At the very least, setup an auto-responder series. Capture email subscribers with something like an ebook. Send out automated emails with your monthly blog posts and try to send other emails to subscribers with general updates from your companies and the occasional promotion.
Also check your email on your smartphone and see if you have a theme that is optimized for mobile. If not, work with your email provider and a designer to figure out the best way to get your email optimized for smartphones. That's where people are going.
The Best Email Content
Now we're getting to the part of email marketing that really isn't changing.
The second part of the article from eMarketer had to do with the type of content marketers are using the most for their marketing emails: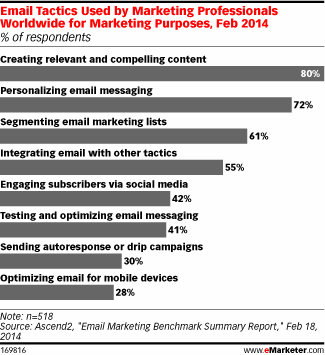 The question in the study was looking at how people were optimizing their email for mobile devices – not that many (28%) – but the interesting thing is that many marketers are still focusing on relevant and compelling content in their emails.
This really hasn't changed since the beginning of email marketing. People realize that you're not going to get very far with email if you don't have something interesting to send.
The channel and the device don't really matter in marketing as much as the content.
The need for content has remained the same from people. We all want knowledge and entertainment. The way we get that content has changed over time, but we still crave content.
So even as we use our smartphones for mobile today, we still want relevant and compelling content.
Action Step: Focus on mobile email because that's the new channel people are using, but don't lose focus on the quality of your content. We find that using the content from our blog helps to make emails. You can automate your email program to send your subscribers your new posts. You can create auto-responder series to earn the trust of new subscribers. You could even use The Snippet Strategy to create compelling content for your subscribers.
The eMarketer article said that mobile isn't going anywhere. Neither is email marketing.
Continue to focus on email marketing. Optimize for mobile and keep feeding your subscribers compelling content and you'll find success.