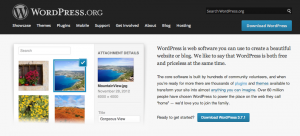 There is a little more work that goes into setting up a blog than you might think.
It's pretty easy to start a blog using WordPress.com, WordPress's free version, but that's not the best option for a business blog.
If you're looking to start a business blog you're going to have to do a little more. It's still not what I would call difficult, but if you've been thinking of starting a blog you've probably bumped into a few roadblocks.
Here are the things you'll need to get your business blog off the ground.
1. WordPress
WordPress is the best blogging system we've worked with at GBW. We've worked with a few others. WordPress is the most popular and it's the easiest to use as far as scheduling posts. You can customize WordPress in a variety of functional ways and many designers work with it to make custom designs.
WordPress offers updates all the time. It's been subject to hacks now and then, but with proper maintenance, hosting and backups you can protect yourself even if something horrible happens. Make sure to backup. We recommend VaultPress – same guys that create WordPress.
WordPress is free to use. That's another bonus. You can add it to a subfolder on your domain and use it completely separate from your main business website.
Or you can do what we do at GBW and use WordPress as your main business website.
Lots of developers and designers are comfortable with the platform making a great support community even if one developer or designer doesn't work out.
2. Designer
A good designer can do a lot of things for your business blog. They can take a basic theme and turn it into something that will not only look good and match your regular business website, but the designer can add the necessary elements that will turn your blog into something that can generate leads.
This includes adding the appropriate calls to action on each blog page. These will usually be found in the sidebar and at the end of each post. Sometimes there will be additional calls to action in the header that are designed by a designer.
The calls to action are usually images that take readers to pages on your site that takes them further into your sales cycle. The calls might also ask readers to sign up for email newsletters. Designers are good at this kind of thing. Trust their take on things. Don't push them in directions that you think are right especially if you've never designed a blog before. They have. Use that to your advantage.
At GBW, we use Sarah Lynn Design. Full disclosure is that the owner, Sarah, is my wife. So I'm partial to her, but you can find a number of other designers on Dribbble too.
3. Developer
Designers are developers go hand in hand. If you have a really good design team on your side you won't have to look far for a developer. The designer will be able to do much of the work to get your blog up and running or they'll have someone that they work with that can take care of things. Often, the designer will work with the developer and you won't even have to worry about it.
But it's good to have a developer on your team when it comes to a business blog. They can help with hosting issues, WordPress updates, Plugin updates and a bunch of other things that might happen.
Developers are in high demand these days. The goods ones are usually scooped up.
If you have colleagues in the business world ask them for advice. You can find some good developers on Freelance Switch.
I know a few good ones as well including Casjam and Van SEO.
4. Email Service
Blogs and email go hand in hand. Email addresses are something that you own when your readers opt-in to your newsletters and email programs. They're giving you permission to contact them, market to them and reach out to them with other information.
We use Aweber at GBW. I've used it for my business websites and personal websites. It's worked very well and the pricing model is setup very nicely. The more subscribers you have the more they charge. It's something you actually don't might paying more for because it means that your email subscriber list is going up.
Place email opt ins at the bottom of your posts and in the sidebar. You can setup an automated newsletter to start and build from there. Your designer will be able to help you with a custom newsletter template to make things more professional, but it's not necessary if you're on a bootstrap.
5. Analytics
Analytics are important for tracking blogging success. We really only use the Jetpack analytics for the GBW blog. We have Google Analytics setup as well, but for checking quick stats over time you get what you need from Jetpack.
We look at traffic each day. That's an important metric. If you're getting the right kind of traffic your profit will increase as traffic increases.
It's also interesting to see where your traffic is coming from. You can look to create a good mix of search, social and direct. A good mix there will make your site ready for anything in case one of the traffic sources stops for whatever reason.
Jetpack is free when you use a WordPress site.
We also track revenue and profit along with a few key indicators. We like to make sure we're getting the right amount of traffic, inquiries, trial posts and new clients.
6. Marketing
Marketing a blog is important to get your blog off the ground and it's important to make sure it continues to grow as you publish posts.
You'll get traffic from search engines over time, but you can't only rely on that source of traffic.
Setup your social media accounts and look to create a snippet strategy.
Also build a list of other bloggers and people that have influence online. Build those connections via email. Write about them in your posts and let them know so they can write about you and share your posts with their audiences.
That's how you can build a business blog.
7. Writers
This one might seem obvious and we could put it at the beginning, but that might seem bias.
You need writers for your business blog. You might think that as the owner of your business that you'll have time to write blog posts, but my experience has taught me that business owners, especially small business owners, are incredibly busy. There is very little time to write. And writing usually takes way more time than people think.
You can look internally for writers. You might be able to do it by committee with the people on your team, but there aren't a lot of people interested in writing blog posts.
That's why our service at Ghost Blog Writers exists.
We can learn about your business by asking you the right type of questions. We'll do the research, write the posts and schedule them on your new business blog.
The posts will be consistent and over time we'll build an asset that will bring in traffic, leads and sales for your business.
Conclusion
By reading this post it might seem like you need a lot to start a business blog.
But the reality is that you can have a business blog up in running in a few days if you have the right people working for you.
We work with businesses all the time to go through this process.
If you've made the decision to start a business blog then start going through this process. Commit to it and start building an asset that will work for you even if you decide to stop at some point.