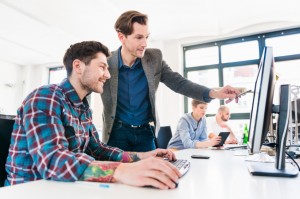 You might think that your About page isn't really that important.
But your About page can be a page that gives a prospect the final information they need to contact you or to order from you.
I'm looking quickly at last week's traffic on Ghost Blog Writers and the About page is the 3rd most visited page. That's pretty incredible. The highest page is the Home page. Next up is the Services page.
Those make sense along with the Contact page (hopefully) and other selling pages like the Case Studies page. But the About page is always right up there too even though I really don't have any main calls to action for it on the site.
Why Your About Page Is Important
Think about your sales process; when someone calls you or when you talk to someone in person or even via email. The first thing you usually discuss is the basic overview of what you're selling and what the person is interested in, but after that you might discuss some small talk where you get to know each other.
People like doing business with people they know and trust. So if you're talking to someone for the first time you have to get to know each other. It happens in real conversations and it's no different with your website.
Your About page does the small talk for you and shows prospects that your company is run by real people with real lives and real stories.
Your About page helps you sells your services and products. That's why it's important to do it right.
Here is how.
Step 1 – Quick Overview Of What You Do

First, it's good to state once again what you do. On the GBW About page I explain that we're a blogging service. It's a good reminder even though you've done this on the Home page and on the Services page. You don't want it to take over the page, but just a little subtle reminder to visitors that you do have something worthwhile to offer.
Step 2 – Overview Of Why You Exist

People want to know why you're in business. Obviously they know you want to make a living and do well for yourself and for your family, but usually there is more of a reason than that. Share your mission on your about page. It gives a little insight into the person you are and the culture you have at your company. These are things people connect with. You'll attract people that share the same world views. You'll lose some people that don't agree on occasion, but that's a good thing. You want to work with the best clients for you in the long run.
hare your vision for the future of your company. This is especially important if you want to work with your clients for a long time. Your clients want to know that you're going to be around for a while. Share your vision for the future so they know a little about what you plan on doing in the future. It helps them understand if they can trust you and figure out if they want to be part of your business in the coming years. If they're on board they'll feel very comfortable to call you and to hire you. You likely won't have to do much convincing.
Step 3 – A Few Details About Yourself

I'm not talking about what you do and things like this. It might be the history of your business or a little bit about your location. Those kinds of things make you more human. It allows people to hear your story and to feel like they really know you a little. It's more of the small talk that you would give if you were meeting someone in person.
Step 4 – Image Of Yourself, Office Or Location

Images are important. It's good to have an image of you and your team in a work setting. Even if you work from home, have someone take a professional photo of your work setting. Stock photos are okay, but real photos are much better. The real thing is so much better than some vanilla actor or actress smiling in a phony way. It's worth a few bucks to have professional photos taken of your work setting. It lets people see the real you and see that you're professional and that you're real.
Step 5 – Images Of Your Team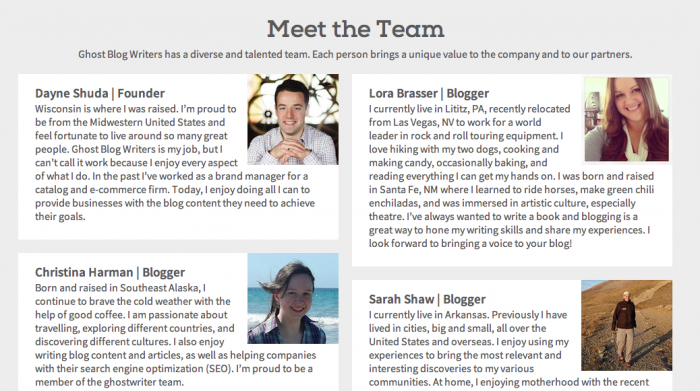 Finally, include images of your team along with some information. This can vary by business, but it's good to have information on some or all of the team members. You can create separate pages if you need to, but have the information somewhere. I know it's important for us at GBW because people comment on the writers they see on the About page. Those are the real writers. They can see who might potentially be working on their blog and that gives them comfort and makes them more likely to hire us.
Conclusion
I know that some people struggle with the content on the About page. Some of my clients have come to me to help them with the design and the content. It's difficult to write about yourself sometime and that's why I think it's good to have a general template like the one here. And also have someone that can look over your page with you. Have someone that doesn't really know your business look it over. See if they get a good feeling from the page and if they understand what you do and who you are.
If you can win them over and give them a trusting, good feeling you're on your way to winning more business.