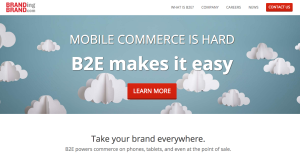 Branding Brand seems to be the leader in B2E.
I wasn't curious what B2E was. If you're like me you know what B2B (business-to-business) and B2C (business-to-consumer) are, but I've never heard of B2E.
It turns out that Branding Brand anticipated this question and has a full page dedicated to B2E (brand-to-everywhere). You can see that it's a little different context than the traditional business acronyms, but it works.
I really like that Branding Brand lays out very easily what they offer clients. You can see that they help etailers with solutions for both online and in-store. They create software to help retailers sell more products.
You can check out their site for more on that, but for this post we're going to look at their blogging strategy.
1. Simple Design
I've commented on design on at least a few of the recent blog analysis posts and I'm going to do it again for Branding Brand's blog.
I really like their design.
The tendency with blogs and really with any design is to try to fit too many things on the pages. That is especially true in the ecommerce world where there are all kinds of content elements that seem like "must haves" for the page.
But you can tell that Branding Brand knows the importance of keeping it simple. Their blog is a simple design. There is good use of whitespace so it's easy to see all the important elements like titles, dates and categories. That's all you really need on a business blog.
It shows that Branding Brand knows what they're doing too especially since their product is mobile-related and understanding user experience is very important with mobile.
And I also like the sub-heading: Hot off the iron
Get it?
2. Above Average Frequency
At least in recent months the frequency on Branding Brand's blog has been 3-5 times per week. Going back a few months it looks like this hasn't always been the case, but they have been what I would call doing above average frequency on their blog for a long while.
It looks like maybe at times they blog more often and we're getting into the busy retail season so perhaps they are really blogging a bit more than normal during this time of year.
Frequency is a question we get at Ghost Blog Writers and we usually recommend at least starting with one post per week. If you can handle more than more is usually better.
With at least weekly posts you're looking at over 50 posts in a year and 250 posts in five years. It's always good to think long-term with a blogging strategy.
The quantity vs. quality question comes up, but it's about finding the balance of doing as many quality posts as you can.
But don't let quality lead to perfectionism. You want to do as good as possible, but it's also important to publish posts on the blog with regular consistency.
Batters in baseball know they won't hit a home run every time. They work to improve, but the important thing is they keep going to bat every time, consistently. They don't avoid going to bat because they might not hit a homer.
3. Current Events // Multiple Posts
This analysis came at an interesting time.
There have been some big waves in the online world about ad blockers.
It's something retailers are concerned about. They're wondering how their ads will be impacted and how ad blockers might affect their sites and apps.
You can see that ad blocking has been a recent hot topic on the Branding Brand blog with more than a few posts touching on the subject.
This is a really good strategy. Whenever your target audience is concerned about a hot topic you can breakthrough and provide understanding and guidance and earn trust.
4. Linking: Internal and External
Another question we get at GBW is in regards to linking.
We definitely recommend internal linking when appropriate. You can see in this post that Branding Brand has done that by linking to a couple previous posts.
This is a great way to give readers, especially new readers, access to other posts on related topics. And it also provides some additional info on the topic you're writing about in the current post.
And building on that it's also good to link to posts and other content off your site. That's call external linking.
And Branding Brand does that in the post as well linking to a couple Google posts and pages.
This adds value to your blog. The tendency is to think that you're sending readers away from your site, but you're really providing some additional value and when you provide value people will keep coming back for more of your content.
You can link to posts when you're building off that post. You can link to posts that have some good stats and research that you're quoting. You can link to posts that you're using as an example to prove a point.
Each of those situations adds value.
5. Reports and Research
It's really cool that Branding Brand uses its own research and reports to create blog posts. They do it in this recent post.
The post perhaps is a bit on the short side, but they link to the full report where readers can go and get all kinds of good information about the mobile world.
These types of posts are popular with readers. I like it best when you publish the full report and pull out maybe 5-10 of the key points and expand on the information with actionable steps. Readers love those kinds of blog posts especially when they want the info inside the report, but don't have time to dive into the report and figure out what the information means.
Conclusion
Branding Brand is doing a lot of great things with their business blog. They're posting more than the average business blog that we see in this analysis. That's a wonderful thing and I hope they can keep it up.
They're also publishing a variety of different content including content that includes research and data. And they're focusing on key questions their target audience has, which is a great strategy for creating blog posts that attract readers.