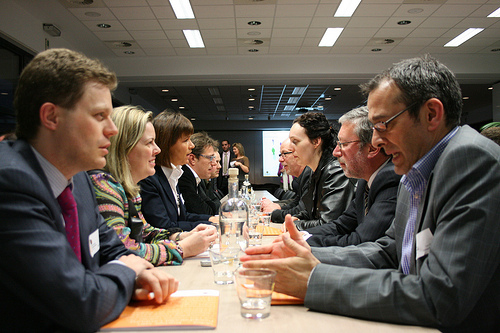 There is a good article from Forbes discussing the need for entrepreneurs to have a personal board of directors.
The concept of the article is great. The idea is for small business owners to create a group of peers that meet monthly or perhaps quarterly. This group becomes the board of directors for your small business. The purpose of the group is to go over the business reporting from the previous period. From there the board would discuss the future of the business including the vision and where each person thinks there are opportunities and threats.
Having a board of directs is something large businesses have done for decades. Larger businesses bring in successful people from a variety of backgrounds. In a lot of cases the people that sit on the board at a business might not even have a background in the industry. These people do, however, have experience with business often times and at least bring a different perspective and voice to the discussion.
And that's what's most important. You want people that will tell you your faults. You want to understand where you need to improve from a business standpoint. You can be your own critic at times, but it's better to get feedback from the outside.
Now, if a board of a directors is good for a small business from a management standpoint, wouldn't it make sense to have a similar arrangement to review your blogging activities?
Blogging Support Group for Feedback
If a blog is an important way for your business to generate leads, sales and profit then it's important to constantly have feedback on its success. Look within your business for a couple folks, perhaps from various backgrounds in the business, to provide feedback monthly on the blogging activities. Also look outside the business. See if some folks in the business world or even folks in your family or friend circles that you trust to be honest.
You're looking for people to provide feedback on the quality of your posts. Share the purpose and vision of the blog. Let these folks know how you want your blog to function. Ask for feedback on how the blog should perform and if the posts are worthy of being posted on the blog.
It can be difficult to ask for feedback in some cases. Often times you will look at your business activities and know something is not working right, but you'll lose the focus on how to improve it because there are other things going on in the business or maybe you just don't know how to correct the issues.
Reach out to folks with blogging experience. Find people from different blogging industries that cover different topics. You could even have the meeting occur virtually where you and a few others discuss each other's blogging situation each month. You can all share successes and pain points. You can bounce ideas off each other and keep each other accountable for results each month.
This arrangement will keep your blog focused on profit and being an asset for the business.
The most successful people, no matter what the field, know how to pinpoint their deficiencies, ask for feedback, and make changes that are necessary to improve.
We can't always be our own best critic. It takes an outside perspective to provide the feedback necessary to improve ourselves, our businesses and even your business blog.
Business Meeting image courtesy of Voka – Kamer van Koophandel Limburg