Blogging for Multiple Decision Makers
If you're like most makters you read eMarketer's updates.
Recently, eMarketer shared a great slide deck on B2B lead generation. The entire deck is worth viewing, but one of the slides caught my attention and made me realize that a blog's impact on lead generation goes beyond just as single reader.
Blogging for Multiple Decision Makers
Here is the slide that sparked my realization: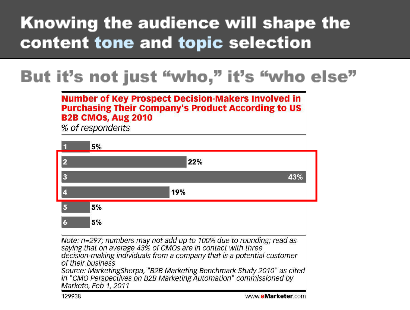 When you're generating leads, it's important to note that nearly all businesses (95%) have multiple decision makers. When you're selling your software, product, or service there are multiple people evaluating your company. There are multiple people looking at the details of your business and how you can help them earn more profit.
If you're using a business blog to generate leads it makes sense to focus on the people that will be reading your blog posts. And remember, more than one person from a business will read your posts if they are considering hiring you.
Now, this goes against what I've written in the past. When writing posts (or anything) it helps to focus on only one person. You want to visualize one reader. This helps you write specific, quality content that is relevant to that person.
I think it's still important to follow this strategy, but now it's necessary to take your blogging beyond just that single person. You want to write your posts for one person. It could be the CEO of small businesses. It could be the CMO of a large corporate.
Once you have the content written you'll want to review the post and make sure the details would make sense for an expanded audience. Think about how an HR executive would interpret the information when considering your company. Think about how the finance person and the purchasing person would make their decisions. Consider how the legal counsel will interpret the information.
You're writing for multiple decision makers and it goes beyond your blog. But you'll want to make sure your blog content is convincing for your brand because your blog is likely the first introduction most decision makers have of you.