Business-to-Business companies are looking to generate leads.
According to a new study from eMarketer, B2B firms name lead generation as the most important initiative. From their companies are looking to turn those leads into paying customers and from there are looking to foster long-term business relationships.
Also mentioned in the study is the way B2B lead generation is changing. There is more importance being placed on content. Businesses are finding it more difficult to find new customers. Business leaders have access to much research and information on the web and are able to wisely choose the best businesses to work with.
As a result, the B2B firms with the best service and product also need to have a way to effectively show the value of their business. Creating content is what the most successful B2B firms are creating as a way to show their value.
And the number one form of content when it comes to lead generation is…blogging.
Blog Posts Most Valuable for Lead Generation
The goal of your business's blogging strategy should be to attract quality leads via search and sharing. You're looking to create blog posts for your target audience to discover. Once the leads find the post you'll want the content within the post to be enticing enough for them to call you or submit information via your contact form. Your strategy could also be to simply make your brand well-known in your industry allowing you to becoming top of mind when your target customers are ready to reach out.
These days there are many popular ways to acquire leads:
Blogging
Videos
Webinars
White Papers
Reports
Podcasts
Slide Decks
The list could go on. There are numerous ways to position your business as a leader in the industry. In the study linked above, though, there is one form of content marketing that gets the most results: Blogging.
Blogging for Leads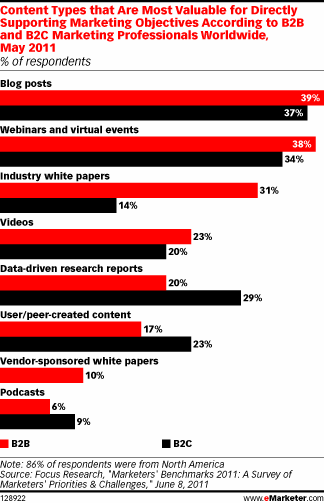 Blogging continues to be a great way to generate leads for your B2B business.
What is your blogging strategy heading into 2012?