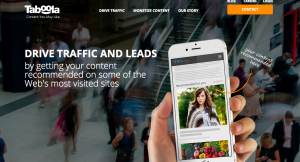 A lot of brands are creating content with the hope of acquiring new customers.
Here at Ghost Blog Writers we help with the first part of content marketing: Content Creation.
On the other side of things is a company like Taboola who helps companies with the other part: Content Promotion.
Both parts are needed for content marketing success and Taboola seems to be doing very well with their service. You know those "You might also like…" suggestions on popular media and content sites?
Those are often Taboola suggestions. Taboola plugs in with the big media sites online and allows people to promote content. The idea is that if people are reading a topic on a subject that they'll like be interested in something similar.
That leads to discovery and that's good for brands. You get customers pulled in with content and move them through your sales process from there once they're on your blog and website.
So that's Taboola in a quick nutshell, but now I'm going to look at their own blog to see how they're using it to attract and help potential clients.
1. Tips For Creating Content
It's a win-win for Taboola when brands are creating amazing content. And Taboola sees all kinds of content – what wins with readers and what doesn't. So they have that information and can share it with brands on the type of content that does well in their discovery engine.
Better content leads to more clicks and that's good for Taboola and for their clients. And it also means that good content is being created for readers and that's a win too.
Taboola has some great posts with tips for creating content including this recent one on gallery page performance. I like that they give some examples of titles to use with galleries. And they also share one of their stats on how social updates with images get more interaction.
That helps sell the reader on the post and makes them more likely to take action on the post. There is more good information including the part about limiting galleries to 7-10 images and to make sure the galleries work on mobile (very important).
2. Taboola Talks
It looks like Taboola has a webinar series or something similar where they talk to industry experts about content. It's called Taboola Talks. Here is a recent one that they actually had to reschedule.
Actually it looks like Taboola hosts the event at their headquarters. I'm wondering if they post videos of these somewhere later after the event. Or even a podcast of the event.
The point here is that the blog can be a great place to promote events like these. Anything going on with your company can be announced on the blog.
Also, this is a reminder that you can rework content into different forms. You can announce events like this and recap them once the event is over. In this case you could publish the video on YouTube, the podcast on iTunes and the transcript or recap on the blog.
3. Recaps
Speaking of recaps, Taboola has an excellent one about a PluggedIn Roundtable they participated in. There is a lot of detail in this post about the state of content marketing. If you're a business looking to attract new customers online and you're looking at content marketing then this is a post you'll want to read.
I like that Taboola mentioned things that participants mentioned and linked to the people who made the contributions at the roundtable. This allows readers to see who and what was discussed and they can learn more about those people and topics if they choose by clicking.
4. Suggestion: Posts With Internal Data
Taboola seems to do this already, but I just wanted to reiterate the point. If you have internal data that would be helpful to your prospects or if you have data that can help sell the points you're making in posts then use it.
Taboola should have a lot of information about titles, type of content and much more. They are sharing this in some of their tips posts and they could do even more. I know businesses would be interested in seeing that data. They would want to know what type of content works on different media sites, with different target readers and more.
In the roundtable roundup before the big problem discussed was getting readers moved through the sales funnel to become customers. I'm sure Taboola has some info on how to make that happen. At Ghost Blog Writers, we see that it's a combination of:
Targeting the right customer
Creating content that answers common questions that customer has early in the funnel
Having proper calls to actions in posts (not taking someone right to a contact page usually)
Website content on pages like the homepage, services page, etc. that sells like a real life salesperson
5. Suggestion: Consistent Schedule And More Types Of Posts
Taboola is pretty good at posting about 2-3 times per month. That's great. They're a little erratic with the schedule. Some posts are back-to-back and others are spread out over 2-3 or even 4 weeks.
We've always found that sticking with a regular schedule works best. It conditions readers. New readers are encouraged to subscribe because they know when new content will be published and current readers can depend on that content based on the schedule.
And I would recommend publishing at least weekly; more if you can.
Conclusion
Taboola has a great niche in the content marketing space. I know a few companies that use their services and it seems to work great to bring in new users to the content a brand creates. It can be a great way to ease prospects into your sales funnel so you can earn their business.
And Taboola is doing great things with their own blog. They look to be practicing what they preach when it comes to creating and promoting content.