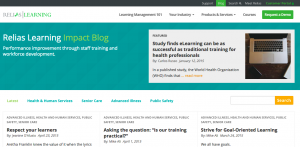 We live in a very wonderful time in history.
If you want to learn something or get some kind of training you can probably find a resource online. With an Internet connection and Internet device you can get an entire education and more!
Okay, maybe that's overstating the situation, but that's what it feels like. There is an opportunity to get all the information you could possibly imagine and more.
Relias Learning is one company in the field of training and learning. It looks like Relias works with businesses and organizations, but perhaps also with individual professionals.
A good way to see who they're targeting is to look at their business blog and that's what we're going to do today.
1. Industry Focus
Right now it looks like the industries Relias Learning focuses on is the health industry. But even more than that they focus on Senior Care, Advanced Illness, Public Safety and maybe one or two others.
There are a few different mentions of this on the company's main pages, but it also is included on the blog in the form of categories at the top of the blog.
I like this approach. It's a good way for new visitors to the main blog page to find the content that is appropriate for them. Someone in the Senior Care industry can immediately go to the articles that are relevant to that field.
If you have a few different niches or focus industries then it's good to use categories to organize your blog content.
2. Featured Blog Post With A Study
Right at the top of the Relias Learning blog is a featured blog post. We've covered this in the past about how a featured post is kind of like the pinned post on Twitter and other social sites. It's a way to bring a favorite post or important post to the top of the feed even as new content is published.
The current featured post is a post about how a study found that online learning is just as effective as traditional training for health professionals. This is a great post to feature. Studies are very powerful. It's difficult to disagree with studies and that's why they're very convincing.
These are the type of posts to include from time to time whether you're linking to a study or doing your own study. Whenever it's available it's good to link to a study even if the post isn't entirely about the study. And this type of post makes for a perfect post to feature.
3. How Many Posts To Publish At Launch?
I went back to the first post on the Relias Learning blog and it looks like they launched it on May 22, 2014. So the blog is just coming up on its first year birthday. So a quick congratulations to the Relias Learning team!
It's not easy to keep up with a blog. That's the number one struggle we see is that businesses start a blog, but they can't continue with it; they can't keep up with a regular posting schedule.
Blogging is a long-term strategy. You most likely won't get traction in the first few months and that's difficult. You feel like you're posting for nobody, but most stop posting just when they're starting to reach the tipping point.
But back to Relias. Unless I'm missing something it looks like Relias published 17 posts in the first two days of launching the blog.
We get asked about launching a business blog and how many posts you should have right away to make it look like the blog has been up for a while and then how often to publish posts ongoing.
I think it's fine to publish multiple posts to start things off. But I don't think it's necessary. I think the ongoing schedule is more important.
You can start with one post. That's your launch. It could even be something simply introducing your goals for the blog. Or you could jump right into a main topic.
But the more important thing is to create a schedule. Create about 1-3 months worth of titles and start working on them. Try for weekly posts, but if you think that's too many then move to every other week.
Stick with the consistent schedule and you'll see the benefits in the long-term. It's like investing. You put money away and it becomes habit and over time you earn more and more.
Blogging works the same way, but you don't want to start missing those "payments".
4. Reposting Posts With Permission
This was an interesting post for a few reasons.
First, the post is a state of the industry. These types of posts are usually always popular with readers especially if you're targeting executives like HR directors and training coordinators. Everyone really wants to know what's going on in their industry and we look to experts in the industry, those with experience, to provide us understanding. We know that their thoughts may not all be right, but many of them likely will be and so it's good to listen.
Second, this is a repost from Linda's blog. And that's a question I get sometimes and I think it's okay. There is a clear indication at the top of the post. They're upfront that this post did not originate here. They obviously have an agreement with Linda so she knows. It's a way to share good content with readers. It's still valuable even if it's reposted, but you have to follow the same procedures as Relias does here.
5. Personality
I love the personality in this post. It makes the information fun. I could see how a company involved in learning and training could have some pressure from someone within to make the posts grammatically perfect and written very essay-like.
But that's not really what people want to read. In our experience at GBW, conversational is the best way to go with blog posts even if you're in a traditional industry.
Think about how your sales team creates relationships with clients. They get to know each other. They share insight into each other's personalities. From there they talk about the technical aspects. It's an art, but it's always a conversation.
Blogging is very much an early sales type of activity so treat it as such and use conversational language like Relias.
Final Thoughts
This is a very good example of a business blog with a clear focus on who they're writing for and what they want to write. The blog has been around for nearly a year now, which is great. They published a lot of posts early on, which is fine and they've published about two posts per month since. That's pretty good. Weekly would be good, but they're really doing a lot of great things.