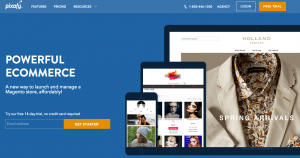 Pixafy is a software platform for ecommerce companies that use Magento.
Pixafy makes it easy for businesses to manage their Magento websites. That's obviously a big challenge for ecommerce companies of any size and it gets more challenging as the stores grow.
But ecommerce owners don't want to spend all their time focusing on the technical aspects of the websites. It's important, but there are other important business tasks to attend to.
That's where Pixafy can help. It frees up the time for the growing ecommerce stores to focus on areas of growth.
So that's the setup on Pixafy.
Let's look at what they're doing with their blog strategy to attract those potential ecommerce clients.
1. Linking To Media Mentions And Events
When someone from your company is featured in the media somewhere. Or if if they are going to be a featured speaker at an event (or something similar) it's a great idea to mention that on your blog.
That's what Pixafy did with this post.
It's for a podcast that the president of the company will be on. That's really cool to begin with and the blog (and social media channels) are great for mentioning this.
Do it as early as you can. Include all the details in the blog post. Then you can share the news on social media multiple times and link to the blog post for all the details.
I think Pixafy did an update on their blog recently because it doesn't have a link to the podcast. Include all the relevant links that help the readers when you do a post like this.
2. Addressing Common Customer Concerns
This is a really good post from Pixafy.
The post touches on a major concern their clients have about switching to the Pixafy platform: SEO.
The post goes into details about 301 redirects. It touches on how those affect SEO and how Pixafy helps with the transition to the ecommerce site has little to no issue.
That's a big point for a potential client and readers of a company blog. Before they switch to your service they'll have concerns. You can address these concerns in ways specific to your platform and you can do it more generally.
This one is kind of in the middle where it's specific to Pixafy and to a general concern about switching platforms.
I like that it's kind of a series of posts on Ecommerce SEO. That's a big topic of interest for ecommerce and there are a number of topics that could be touched on to answer questions ecommerce managers have about SEO.
3. Mentioning Tools
I can't say for sure I know why, but people seem to always be looking for useful tools and technology. It seems we're always looking for things that make our lives better.
And if you're working in a business you're probably looking for things that will make you better at your job or that will make your job easier.
So Pixafy had the right idea with this post about tools for improving ecommerce shipping.
The concept is that as ecommerce stores grow they will run into issues with scaling. So Pixafy picked some tools that can help with scaling especially with shipping.
That is great because it's helpful for the ecommerce managers reading the post. And the tools mentioned might see the post and share it on their blog and social media.
The last section links to favorite articles with good tips. That can make for a good post too; kind of curating some great tips.
One note would be to add your own notes and expand on the tips and why they're important, which Pixafy did.
4. Fun Posts
This post got cutoff maybe in a transfer, but I like the idea behind the title.
I think it would have been an image, gif or video. It is something quick and fun that will make the target reader laugh.
It's listed as tech humor and that has me thinking about the Pixafy customer. If their contact within the commerce companies is the IT Director or someone similar then this approach is perfect.
You always want to know who your target client is when you're doing a business blog. You want to attract them to your blog and not someone that isn't your potential customer.
And fun posts are good to breakup the regular posts we talk about. You don't want it to be all fun posts, but fun posts show your personality and human side. And people ultimately buy from people even in the B2B world so these fun posts are good ways to connect.
5. Introducing New Employees
Pixafy does this on a few posts and here is a recent one.
Again, doing posts like this add to the human side of your business. Even in the B2B world, your potential customers want to know who they will be working with. They want to know how you do what you do and who is doing the work.
That helps make them comfortable with choosing your company to partner with.
I think this is a great template for the post too. It's a great little Q&A and allows readers to get to know the team members.
Conclusion
Pixafy is doing a lot of great things with their business blog. They seem to have the right target customer in mind. They have a great variety of post types and they update regularly…at least it seems.
That's one last note: Post Dates. I don't think Pixafy has the publish dates on their blog. I could have missed them.
I think it's okay not to have the dates if your posts are meant to be "timeless". How-to posts can fall into that category as well as guides and things like that. But many other posts are meant to have dates. And I kind of like to have dates on the blog posts. I think readers want that information.
Pixafy has a great blog. I like the design. They're another example of how a successful company is using a business blog.