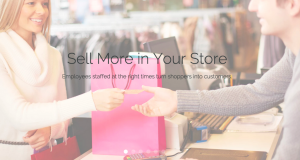 Automation is something I think is great and even though people have done a lot in terms of automation in the past I think we're still on the cutting edge of the potential.
Percolata is a software company that provides automated staffing for retailers. Visit the site for much more info on how it all works, but the basic version is that the software figures out the traffic counts in your store and does the staff scheduling for you. This takes out the manual element of scheduling people and probably can do it more accurately than a person.
So that's all well and good, but as you know I'm always interested in what companies like Percolata are doing in terms of marketing and blogging. So I looked at their blog to find out. My guess is that the folks at Percolata have a lot of great information to share with their target audience about staffing and the retail industry in general.
Here are my thoughts…
1. Introduction Post
Percolata is a brand new software. It was even newer then I thought when I first stumbled on them and their website. The first post went up just a couple weeks ago introducing the brand and what it provides for retailers.
I think it's a really good post. There are great stats including some "Wow" stats like the fact that 1 out of every 4 people in America work in retail. That was surprising to me.
And it was also crazy to me that 1 out of every 3 people leave a retail store because they couldn't find someone to help them. I figured people often leave stores without buying, but not for that reason and not that high of a percentage for that reason.
The post also discusses that the company recently had a round of funding to help them grow. I think that's always a good thing to show even in a blog post because readers and potential customers know that others back this company and that shows confidence.
2. Using Stats And Studies In Posts
If you clickthrough to that first post that Percolata added on their blog you'll see a handful of great stats. These stats are great for the core message of Percolata and helps them gain the attention of their target audience.
Stats work throughout the sales process and that includes in blog posts, which are typically at the very beginning of the sales process. We've been finding at GBW that using stats in posts is a great way to get readers more involved with the post. They're more likely to take action whether that's reading more about the company that published the post or even sharing the post and subscribing to a newsletter.
It seems that Percolata fully understands the importance of stats and they probably have many more interesting stats and studies they could use in future posts.
3. Staffing Topics
Since Percolata is just starting out I'm going to do this blog analysis just a bit differently and suggest a few topics they could write about once they really get rolling with their blog.
Quick side track first – why should Percolata be blogging?
Here are two stats:
77% of Internet users read blogs
Small businesses with blogs generate 126% more leads than those that don't blog
Those stats and more found here.
Anyway, the first topic I think Percolata can cover is staffing. This is closely related to its industry and how they help their clients – retailers. Percolata already shared information in the first post on how retailers are often overstaffing and understaffing. They can talk about issues and questions related to those two topics.
But Percolata can also discuss other questions retailers have about staffing. Things like:
How to find the best employees
How to keep the best employees
How to train employees efficiently and effectively
And much, much more
Look for questions your target audience is asking and you'll find a ton of blog post ideas.
4. Foot Traffic, Marketing And Sales Topics
Should Percolata only discuss staffing topics? Well, they should, but they can expand out from there to discuss things that really affect their target audience – retailers, retail owners, retail managers, etc.
Staffing is certainly a big concern for those folks, but they have other concerns and challenges too. And there is no reason Percolata can't be an industry source for great information on topics concerning foot traffic, marketing and sales in the retail world.
If Percolata can provide information on how to improve those areas they will attract the right kind of traffic to their blog and website. They'll earn the trust of those readers and will turn a few of them into clients of the software.
People like to choose services and products that they trust. And when you provide an answer to a question or challenge someone has you earn their trust.
Not sure if you're an expert in a certain topic? You would probably surprise yourself by how much you already know. And you can always reach out to industry experts on Twitter, email or even in person at events. Get their thoughts on topics and quote them in your posts.
5. Pricing, Merchandising And Trends Topics
Retailers also have the challenge of finding the right products to sell. They're typically very good at this area, but the best are still always looking for more information.
Percolata could look for information about pricing, merchandising and trends in the fashion or other retail industries. Readers in this area would eat that content up because they're always looking to gain more knowledge. They need that knowledge because they need to pick the best merchandise in order to stay in business.
Final Thought
Percolata has the opportunity to do this with their new business blog. And there is no reason you can't do the same in your industry. Not sure if you should start a business blog? Go back to those stats shared above. Tons of people read blogs each day and the companies that blog get tons more traffic and leads.
Every day that you're not blogging you're leaving money on the table.