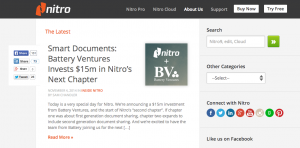 Nitro is looking to make it easier for businesses to collaborate. And it looks like they've already been succeeding. The company has some pretty big names on its user list and that's impressive. But when you look at the service they provide it's easy to understand why the target customer would want to use Nitro.
The main example is a business collaborating on a proposal. It's saved on a cloud server where only certain people have permission to access. You can see who has the ball to make the next move and you can make changes quickly to get deals done faster and to everyone's expectations.
And it looks like Nitro does much more than that or plans to in the future. It seems like a company with a lot going for it. As a business owner, I can see the value in this type of smart document work and the need to not download software and only work in a browser.
So today I'm going to look at the Nitro Blog and see what Nitro is doing with their business blogging strategy.
1. Sharing The Vision For The Future
Nitro recently had some exciting news about an investment that has helped them to launch their new Cloud service. It's always good to share news like this on the company blog. The fact that a firm is making such a large investment gives current and potential customers a sense that they're choosing a company that others believe in. That's social proof. It's scary to be the first to do something so when others are going in a direction it's easy to follow.
Nitro is also sharing their vision for the future in this blog. The post shows the human side of the company too and that's something potential customers can connect with. People want to know your plans so they can determine if they want to choose you for the long-term. With this post, readers know where Nitro wants to go and they get a look at the people behind the company.
2. Aligning With Important Causes
One of the keys to growing a business, really any type of business at any level, is forming partnerships with complementary companies. I saw a note on the Nitro homepage that they have partnered or integrated with Lenovo. That's an example, but Nitro is also partnering in another way and they wrote about it in a blog post.
The company is participating in World Paper Free Day. It makes sense for the company. They help people get rid of paper (I'm a fan of being paper-free. My desk is very empty).
Nitro has found a cause that naturally fits its vision and what they provide. They're connecting with people that are looking for ways to go paper-free. That should lead to more customers and it can be promoted right on the company blog.
3. Customer Stories
We've talked about customer stories and case studies before in our Blog Analysis series. It's common with business blogs and a really good use of a blog post. The reason these stories work so well is because you get to kind of brag about your company without really bragging. You're really focusing on your customer and showing their happy story.
In this post, Nitro focused on a user that was really struggling with a cumbersome time sheet process. They showed how that person found a solution with Nitro. Then Nitro took it a step further by explaining how to use their  service. This makes it easy for readers to put themselves in the shoes of the user and realize that they could save time and money using the service.
4. News Roundups
Businesses are really good at keeping up with industry news. It's something a manager would do naturally as part of their job. But your customers probably don't have the same priority to focus on the industry news. Or they do, but like you they're still wondering if they're looking at the correct industry information.
That's why a news roundup blog post like this one by Nitro is so valuable. Nitro can easily create these roundups each week or each month. They're already looking at important articles. And the roundup is valuable for potential customers because they now have a place to go regularly to find the most important and interesting news in the industry.
5. How-To Articles
Here is a quick blog post that intros to an article written about a process Nitro is using for employee evaluation. This post shows the potential for the kind of great how-to information Nitro can share with its target users.
Business owners and managers are looking for ways to improve. If they can improve employee performance and happiness they're going to want to do it. Blog posts like this can go into detail on the steps that manager could take to improve their performance review process. When readers have actionable steps to follow they're going to feel rewarded for reading the blog. They'll come back to read more. And they'll trust the company that wrote the blog and will likely become a customer.
Final Thoughts
There is a lot to like about Nitro. It seems like the company is doing very well. As a business owner, I can see the value in finding more efficient ways to handle all kinds of different business documents and contracts. And Nitro is also showing great promise with their business blog. They're doing a lot of great things. I think they could do even more how-to posts by focusing on the questions their target customers have and answering those questions with blog posts.