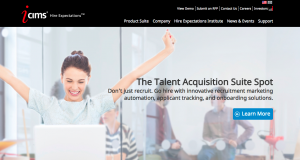 CEOs cite sales as their number one priority. But the number two priority is hiring talent.
And you really can't have one without the other and it probably starts with having the people on board in various positions that can deliver a product and sell it.
That's where iCIMS comes in. They're looking to help businesses and organizations with their hiring. They want to make sure that businesses can find, attract and keep the best people. The company has a series of tools that help in all stages of talent acquisition including the on-boarding process, which is key, but often overlooked.
So that's iCIMs, but today we're going to look at the company's blogging strategy. As you can probably imagine, the company has a lot of information it could offer to potential clients.
Let's see what they're doing.
1. Mobile-Friendly
I'm going to start this analysis out a little different. We usually focus on the content first, but I want to focus on the mobile side of things today.
The iCIMS blog is mobile-friendly. I can't tell if it's responsive or if it's a mobile site, but it seems to be working like a responsive site, which is usually the easiest to manage. You have one dashboard where you control everything on the site and all the URLs stay the same.
Google has been rolling out some pretty big changes to the way they look at content and mobile is playing a big part in it all. The push from users today is to consume content that fits on a smartphone.
If you're not responsive yet with your business website and blog you're already behind the competition and it's probably already affecting you in multiple ways including organic traffic, bounce rates, sales and more.
2. Categories
Something else I haven't touched on much here in the blog analysis series are Categories. They're important to the structure of your business blog and can be a big help for readers when they're looking for more content within your blog.
iCIMS has a category dropdown at the top of their blog and I think that's a good move. I generally recommend about 3-7 categories, but in some cases you can have a larger number.
What you're trying to do with categories is organize your content so it's easier to find things you're looking for and that's including readers.
All the categories on iCIMS seem like they would be appealing to the target reader. You have categories like Hiring Managers, HR Laws & Compliance and more. All interesting and useful for the reader on this blog.
3. Rethinking The Way We Do Things
The title, We Need To Rethink Social Recruiting, caught my eye. It's a recent post from iCIMS and it reminded me that this kind of post can make you stand out and it can be appealing to your readers.
I like that iCIMs added in a study about how managers are using social media for recruiting. The point of the article, though, is that social recruiting hasn't turned out to be any kind of silver bullet for the hiring process.
Social media can be a great tool, but according to iCIMS it should only be part of the process and you have to find the indicators that will be valuable to the hiring process. If you focus on the wrong attributes you're going to have trouble finding the right people for your company.
There are probably tons of articles in the hiring industry that talk about the benefits of social media and that's fine. But iCIMS looked at it differently than everyone else. These kinds of articles can make you stand out from the rest of the noise in your industry.
Take a different point of view.
4. The Power Of A Title
You can really turn a great post into something that people will see with a great title. You also have to balance having a great title without misleading or over-promising the reader.
iCIMS does it perfectly with, The Best Workplace Perk Isn't Lattes, It's…
That's a great title. As the manager of a business I need to click on that title to see what the answer is. The key is that the answer is something I want to know, but it's not given away in the title. I need to click through to get the answer.
I won't give away the answer. You'll have to click yourself to find out. But the post is good and you'll feel like you might need to change things at your company and how you offer perks to employees.
You can have great content, but you need great titles if you want your content to be effective. It's a balance of not over-promising, but try to take it more toward that direction than being too conservative. Your great posts deserve a big audience.
5. The Future
Here is a post about the future of recruiting. That's a big statement, but people usually want to know what's coming in the future. We look to experts to provide the answers and generally you'll get a good audience by discussing what you think will happen.
The things in your gut are good to include, but also cite studies, trends and other articles to help build your case. People will be more likely to see you as an authority if you do that.
What can you discuss about the future of your industry?
Turn that into a blog post or into a series of blog posts and you'll be creating something your customers want to read.
Final Thoughts
iCIMS has a great business blog. It looks like back in October and November that they were posting just about every week, but over the last few months that number has dipped to about 1-2 times per month.
We have found that weekly is a sweet spot and if you can do 2-3 posts per week you're in even better shape.
I'm not sure what happened at iCIMs, but things tend to get busy and the blog gets lost in the shuffle. Hopefully they keep on adding content because they've been doing a great job so far.