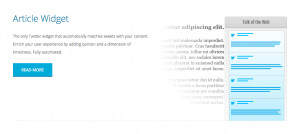 There are a ton of different online publishers today. You've got everything from traditional news and blog sites to useful apps that tell you what the weather is and all kinds of other timely and useful information.
Those online publishers produce great content, but sometimes they want to provide even more information to their followers and users.
That's where Crowdynews comes in. The new service gives publishers a way to share even more content from the social web on their websites.
With Crowdynews, publishers can share trending industry information on their site. It's curated from certain topics, hashtags and other indicators on the popular social sites. There are a few different options and it looks like publishers have a lot of control over the types of stories that will show.
So check out the site to learn more.
I'm going to look at their business blog and see what they're doing well and maybe look at what they could do to provide even more value to their target audience (online publishers).
1. Product Showcase Or Explanation
It was the Super Bowl recently and Crowdynews knew that its followers and target audience would be paying attention. Many of those publishers would be creating content about the Super Bowl or mentioning the Super Bowl.
But people always crave more. And that's where Crowdynews stepped in and did a post on how their product can help publishers to produce even more content on their sites.
We think it's good to have posts that describe your products and how they work. It's a little further down the sales funnel. Someone has to know who you are and a little about what you do before they start wondering exactly what you have to offer them. But a person in that frame of mind will find these posts useful.
I would say you could do about 5-10% of your posts like like this.
2. Company News
You can also use your business blog to share company news. That's what Crowdynews did with this post on a new partnership they had in place.
This is part of the getting-to-know-you process that companies go through with potential customers. It's good to share news with your customers and potential customers. It gives them some insight into who you are and what you're doing to get better.
Readers are always interested in seeing what you're doing to help them with their struggles.
3. Team Interviews And Features
Crowdynews also does a great job with content featuring their team members. Here is just one example. You have a brand for your company and that's great, but at the end of the day people are working with people at your company and not the brand.
And prospective customers and even current customers like to get to know the people that work on your team. The blog is a great place to share that information just as Crowdynews did with this post.
4. Tips For Getting More Out Of Social Media
So all these publishers of all kinds of content are out there working hard to create content. They're looking for ways to give their fans even more. That's where the Crowdynews product comes into play.
But those publishers are also looking for ways to get more out of what they're doing. Many would love to gain more knowledge about how to use social media from a social media authority.
Crowdynews can become an authority on social media. They're already deeply involved in the industry with all the research and work they're doing. Chances are the people working there love social media.
Take that knowledge and create posts with tips, findings and experiments. The target audience would love to read that kind of information on the Crowdynews blog. It attracts the target audience that is at the very early stages of the process. They're looking for general information. They come to the blog and from there get something and can learn about what Crowdynews has to offer.
5. Industry Expert Interviews And Features
You can use the knowledge you have on your blog and another way you can get even more good information is from experts. You can do interviews or you can do features. Things like featuring 10 experts and their advice can make for a great post. You can write about 10 great tools that can help out your readers.
Crowdynews can do this for all kinds of topics relating to social media. They can discuss other complementary tools that their readers can use to get more out of social media. They can collect some really great tweets from social media experts and turn them into great posts. They could use that content and add their own thoughts.
It can all turn into more valuable content that attracts the target audience who is still just looking for general industry news before they know about your brand.
Final Thoughts
Social media is definitely popular with many people today. Crowdynews has created a way for publishers to use social media to add more content to their sites to provide more value to readers. And Crowdynews is also using their blog in a positive way. You can follow their lead to do the same and hopefully the couple ideas at the end provide some insight or spark some ideas that you can use as well.