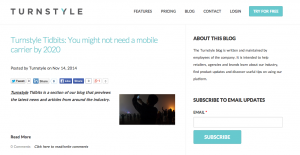 Are you a business with a physical location like a bar, retail shop or coffee house? It's tough to compete in this space today. You're fighting for anything you can get out there in the business world including social media followers and other engagement with customers.
This is a pain that a company – Turnstyle – is trying to alleviate. The company has a software program that turns your free WiFi into something that can generate more customer engagement.
It's common now for businesses with physical locations to offer free WiFi. If you don't already offer WiFi to your visitors you've probably been getting pressure from them to get moving on the front.
It can be great to offer free WiFi. It can get more people in your door, but you can make this WiFi work for you even more. That's what Turnstyle does. The software encourages visitors to engage with your brand on Facebook and Twitter so they can access your WiFi.
The company's clients have seen great increases in likes, followers, check-ins and engagement. And those clients are also able to learn more about who is visiting through the analytics.
It seems like a great tool that is working for businesses.
But today we're going to dig into the Turnstyle Blog. You know I love when brands like Turnstyle engage with a business blog. Here are a few of my thoughts on what they've been doing and what they could do with their blog.
1. Turnstyle Tidbits: Providing Insight And Understanding
I kind of go in order as I see things on the blog and as I'm writing this the first post was from the Turnstyle Tidbits series of posts on the site. The post shares some insight from an article from the mobile industry and how consumers are using public WiFi.
That's a great idea for a post. Your customers are likely looking for news from your industry. And since you're probably already reading the news you can save them time by curating that content in a series like this.
And series posts can do really well. People will come back again and again for a regular series of posts. I've been doing that on GBW with a few posts including the weekly blog analysis posts like the one you're reading.
But Turnstyle could take it even further. Readers are looking for the latest news, but they also want (perhaps even more) understanding on the topic. Anybody can share the news, but it's more valuable to tell someone what it means for them.
2. Getting Email Subscriptions
Look in the sidebar of the Turnestyle Blog and you'll see a prominent call to action which asks readers to subscribe to the blog updates. This is something that I would say nearly all business blogs should do.
You're readers are likely new readers. They might discover one of your posts via search or social. They are looking for answers to their questions, which come with your posts.
But because they are first time visitors they're likely not ready to buy from you yet. That's why a call to action like an email subscription makes more sense at this point. If you provide good content people will want more.
The same goes for your social pages. You can promote those at the end of posts or in the sidebar, which is a common place for calls to action like this.
3. How-To Posts That Answer Questions
These are perhaps the most common types of posts we write at Ghost Blog Writers. The idea is you identify the common questions your target audience (client or customer) is asking in relation to your industry and then answer those questions with blog posts. We often find that businesses are often already doing this in person or on the phone with people. So putting it into a blog post is just the next step.
Turnstyle did this for the post on elements of effective location-based marketing. And this post is just one example, but it's a good example. This would answer the questions local businesses would have regarding location based marketing. Maybe a coffee shop has heard about LBM and they're looking at getting started with it. Knowing what should be included and getting tips from a major industry player is great.
Great job here by Turnstyle.
Just found another post in the question category – What Is Social WiFi? Excellent idea for a post.
4. Sharing Stats
I love this post where Turnstyle uses their own internal stats in a post. This one is about the method that public WiFi users prefer when logging on to that public WiFi. Turnstyle allows businesses to let people login to the WiFi using different methods including email, Facebook, Twitter and in the future a phone number, which can be used for SMS marketing.
The winner in the stat was email if you're wondering. People like logging in with their email. And that is awesome for businesses because email marketing is still better than social media marketing. When you get permission to market to someone via email you can control the message and the medium.
So this is a great example of a post and Turnstyle took it even further when they added outside stats from sources. It's packed full of valuable insight and it's backed up by stats. It's hard for people to argue with stats.
5. Press Posts
There is another category on the Turnstyle Blog where the company shares posts on other sites or in the media where they were mentioned. It's called Press. What I really like is that Turnstyle doesn't just link to the piece. That would be good, but Turnstyle provides some additional insight into the topic, which is great.
If you're mentioned in the media it's good to highlight that fact. It's social proof to your customers and potential customers that others see you as a brand that is worthwhile. And if you add in additional perspective you can clear things up or expand on things that readers would be most interested in.
Final Thought
I love blogs like this. Turnstyle is an expert in the industry of location-based marketing and they're using that expertise to attract new customers and authority with their business blog. Anything that would be a suggestions for their blog would be a nitpick. Maybe they could form a regular publishing schedule where their posting Turnstyle Tidbits every Monday and answering questions every Wednesday and Press on Fridays or something like that. But really it's just to do more of the same on what they're doing. Great blog.