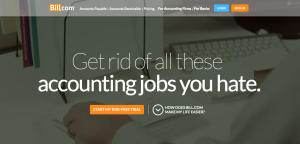 I'm excited about this Blog Analysis.
Well, I'm excited to work on them all, but this one stood out.
First, the company made a great first impression with their homepage. I could pretty much tell instantly what they were offering and that's always a good thing (but not always an easy thing).
We're looking at Bill.com and their blog strategy today.
Bill.com helps businesses with the challenges surrounding payables and receivables.
They do a really good job with the content on the main pages, in this case videos on the homepage, to explain the challenge for their target customer and the solution that Bill.com provides.
I think they do a really good job with that on their site and I'm sure it converts well.
But as we always do with the Blog Analysis we're going to look at the top of the funnel area of the sales process and get into what they're doing with blogging.
Let's get into it.
1. Blog vs. FAQ
The first thing I noticed while going from the homepage to the Bill.com Blog. I saw in the footer on their site that they also had an FAQ page on the site.
I don't know if I've mentioned this before in the Blog Analysis, but I have this conversation with clients on occasion.
Part of a good blogging strategy is looking for questions your target customers are asking in relation to your industry. That's in relation to your industry and not necessarily in relation to your business.
For example, Bill.com answers questions like Is Bill.com secure? and How is Bill.com different? on the FAQ page.
When potential customers are asking questions specifically about your business and service you want them to be further into your website than the blog.
The blog is more for answering questions that your target customers are asking before they know your business even exists.
2. Multiple Audiences
Sometimes with a business blog you're going to have multiple audiences. This seems to be the case with Bill.com. They have small and medium business owners, managers and accountants that use the software. They also work with accountants, banks and even developers.
One way you can help organize your blog for different audiences is by using a category or tag to separate the posts. That's what Bill.com has done on the sidebar of their blog. They have different links to direct readers to the area of the blog that will have the most relevant content.
I like this structure. It's better than putting "Accountant" or "Small Business Owner" in the titles for those readers. You can still do that for some posts and you can also keep posts general that will appeal to multiple audiences, but you can also use categories and tags to focus on questions specific audiences will find valuable.
3. Case Study Posts
Something Bill.com does with their blog is share client stories or case studies. Here is a recent example where they discuss how one of their accountant clients uses the service to grow their practice.
They include some specifics and numbers, which also help case studies and blog posts. With this post Bill.com leads nicely into a call-to-action for a webinar.
That's something a little different with blog posts, but it works pretty well in this case. Webinars can be another great way to get potential customers aware of your business and starting their move through your sales process.
Case studies can work well as blog posts. A strategy I like that I've seen on a few different blogs would be creating a section for Case Studies on the website. Once people are interested in your business or service they often look for case studies so in that way it's deeper into the funnel.
But from there I've seen companies take bits of information from case studies to create blog posts. In this case maybe it would be something about fees and answering a common question the target readers have about fees.
4. Company Updates & News
A blog is a great place to share company updates and news. People often look to company blogs to find the official information. There might be coverage in other media like industry publications, but there really is nothing as official as the company's own blog.
Bill.com does this with a few posts including this recent post describing a new integration or partnership with Xero. There is a lot of good information about the partnership in the post that readers would find interesting.
5. Surveys
I really like this last post that Bill.com did this year. They put on their own survey to find valuable industry information. Then they promoted the survey with a blog post.
These surveys are wonderful for target clients. Each of those clients and potential clients are curious about what their peers are doing and thinking. A survey provides a nice way to participate and find this information anonymously.
The results are useful and often come in stat form, which is always interesting to people. And from surveys you can focus on specific results and provide some insight and action steps for target customers. So one survey could turn into multiple blog posts.
Conclusion
Bill.com is doing some really good things with their blog. And I really like their website overall. The blog even has some potential for doing more things and more types of posts. They have a few different target audiences. Some would have similar questions and there would also be some questions unique to each audience. All those questions could be answered on the blog both about accounting and billing specifically and about other business-related challenges.
It can all make for content that attracts the target customer, earns their trust and sparks an interest when they are curious about billing and accounting software.