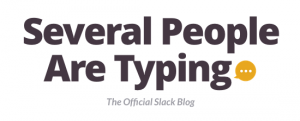 Slack has been a big topic around the water cooler. Well, I work from home and there isn't much discussion around the water dispenser on the fridge. So maybe Slack has been the talk around the online tech world.
The software allows people to communicate in a way that's more efficient especially for businesses. If you're using software for your business and you need to communicate with a team of people then you're probably using all kinds of different things at once. Slack tries to bring all those things together so you can keep your conversations in one place while integrating the things you're working on.
So you can have a conversation with people in a stream and share documents, videos and whatever else you're working on. I can see how it would be very useful. And I talk to entrepreneurs all the time and most are looking for more time in their day. So a service like Slack that saves time will be in high demand.
But today we're going to look at Slack's blog.
Here are some of my observations.
1. Quick Tips
Quick tips usually make for good blog posts. Depending on who your reader is I would venture to guess that your reader is probably someone that it is busy most of the time. Who isn't these days, right?
We're all busy when it comes to finding time to read posts, but we're also always open to finding new ways to make our lives easier. So quick tips and hacks for doing things better are perfect.
Slack does that with their Bot Tip series. It only has one post as of this writing, but it's a good tip and I can see people coming back for the monthly tips.
If you have quick tips to share it's good to do so. Find little things that can make the lives of your readers easier. It could relate to your product/service or it could relate to your industry.
And don't worry about finding something completely new. That would be great, but even if some people know your tip already you are still likely helping some out.
2. Honest Communication
No company is perfect. People realize this. Actually, I would say that 99% of people realize it. The loud minority will make a stink when things go wrong, but most people know that crazy things happen in life.
Where some companies (and individuals) get in trouble is when they don't communicate when things aren't going perfect. Slack had a little issue with their service, but they went to their blog to address it. And it sounds like they communicated well via social media and probably via emails with users as well.
I really like that Slack took the time to explain what was going on and what they were doing moving forward. That's what people want to know. It seems simple to communicate like this, but it's not always easy. You're in a stressful situation when things are bad. You feel bad. But communication like this is good. And a blog is a great place to communicate.
3. User Stories (And The Slack Voice)
Slack certainly has a unique brand voice. They have a unique language on their blog. For one, they have a series on the blog called Unusually Slacky where they highlight how people are using the service. Here is one and another example. They also use fun language that is very conversational.
I would say that voice and casual approach to language on the blog is unique among business blogs. It's surprisingly difficult to inject the right voice in a business blog. Most people are worried about sounding weird, but Slack seems to embrace their voice really well and I like that.
And those two posts on Unusually Slacky are great. They focus on ways that Slack is helping people. Posts like this allow you to promote yourself without really seeming like you're promoting yourself. You're talking about how others have done something cool.
4. A Tumblr Blog
There are a ton of people using Tumblr blogs, but in my experience I haven't seen too many businesses that use them. I have seen a few and I've worked with Tumblr before. I think it's a good blogging service. I don't have anything against it. I just wanted to point out that it was different to see Slack using Tumblr instead of the more common WordPress.
Normally I recommend WordPress, but Tumblr seems to be growing in popularity. The one thing to keep in mind is that you always have options for people to help you with the setup of the blog if you want to make changes or need to make fixes. WordPress has a strong community, but Slack probably has a great team of developers that can work on any CMS.
5. Titles Tags
This is just a little thing. On the Slack blog they have the name of their blog first in the title tags right now:
Several People Are Typing – Bot tip of the month no.1: Slackbot the Scratchpad
Normally I recommend putting the title of the post first in the title tag. When readers are searching for information they're looking for answers to their questions. They want to know the title first. Your brand is secondary at this point in their discovery of your content and brand.
Final Thought
Finally, I really like this post on the new CMO at Slack. It's another example of how you can use your business blog to connect with your target customer. People like interacting with people. Even when they're buying something from your brand they're buying from the people behind the brand and they're connecting with the other users. Showing your human side in this way can certainly make more people want to use your product or service. A great job by Slack on their business blog. They're doing some things differently and they're doing them well.