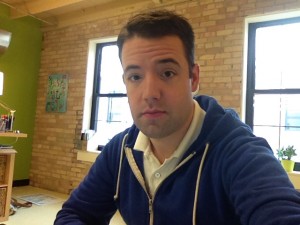 Many businesses can benefit from a blog.
We're obviously biased here at GBW, but we've seen different companies grow with the help of a blog.
One type of company that can do really well with a blog is the marketing agency.
At GBW, we work with a number of agencies. They're often small to medium sized agencies working hard to provide marketing services to clients. Because they're so busy and growing they often don't have time to blog as often as they would like.
So to supplement their blogging they'll have our team provide posts and often they'll have us help them to provide blog content for their clients as well.
If you're a marketing agency looking at blogging as a way to grow them you're in luck.
Here is a blog strategy to follow to bring in new visitors to your website and new clients to your roster.
Step 1: Defining Your Ideal Reader
With our new clients we always ask about the ideal reader. We try to get as detailed as possible with this aspect because it's so important. It's important for the blog and for the business in general.
Some will say that their ideal reader is "everyone, really". Well that's not the case. Even the biggest companies in the world like Apple and Google don't focus on everyone.
Hone in on the person you want to attract to your blog. This might not even be your current customer. Maybe you have one type of client that is better than another. Focus on your ideal reader and "ideal" is in the sense of being good for your business.
Identify and define this person and you'll have a much easier time creating posts and your blog will be much more successful than if you go into it without an ideal reader in mind.
Step 2: Topics
Different marketing agencies will focus on different aspects of marketing. Focus on the topics that are most concerning for your ideal readers. Focus on the common questions those people have and you'll come up with your topics.
For example, let's say your agency focuses primarily on social media.
The topics you would cover would be all the questions people would have about social media. Write about new trends and news. Provide your opinion on what is happening with social media and what it means for your ideal reader.
Then provide how-to content and tell people how to do it.
This might seem weird, but think about it in the terms of those celebrity chefs you see on TV. They tell people and show people how to do things. Then those chefs sell the tools the people need to cook and most of those chefs have restaurants too.
Why teach people to cook when you want them to come to your restaurant?
Because people don't want to cook all the time.
Your clients will do some social media on their own, but they also recognize that they need help. That's where you come in, but to earn the trust of your potential clients you need to show your expertise by providing how-to information.
Step 3: Type Of Posts (Word Count)
In general, longer posts with in-depth information do very well with all types of readers, but it's not a rule set in stone.
The average post we create and read at GBW is about 500 to 600 words. That's a good place to start if you're looking to start your agency blog.
Some posts can be shorter. Others can be longer with really in-depth information.
Start by writing these types of posts:
Top lists
Checklists
Featured stories
How-to posts
News posts with your opinion
Start there and experiment with your own variations and new forms of posts. See what works and build on the ones that work.
Step 4: How Often To Post
Many of our clients post 1-2 times per week. You can have really good success especially after six months, one year, two years, etc. by posting at this rate.
The more you post the better is a general concept in blogging, but it's about finding a balance of good content with highly frequent content.
At GBW, I started posting one time per week and I realized that it was the main driver of new business for the company so I committed to creating good content five times per week.
Traffic has doubled every year as a result of the increase in blogging.
Don't overdo it. Start with once a month.
If you can do 1-2 posts per week. If you can do more then do more.
Step 5: Promotion
Don't forget about promotion.
Like blogging, promotion can take time to build, but it will gradually build over time with your blog and you'll keep doubling your traffic or even better over the years.
Here is a recent post on promoting your new blog:
Check that out and promote your blog posts to help grow your blog and your business.
Step 6: Tracking Success
Finally, track your success.
A quick and easy way to track success is with traffic.
If you're attracting the right ideal reader with your posts the traffic you get will convert to clients.
That's really important so don't overlook it. You need to write for your ideal reader. If you don't you'll get traffic, but it won't matter because they won't buy what you're selling.
You can also track sales and you should track sales.
With every new prospect that comes in at GBW we ask how they found out about our company. The majority say they found our site through organic traffic or by reading a blog post on our blog.
In the agency world where you are more intimate with your customers you can ask these questions and track the success of your blog.
Conclusion
Marketing agencies can do great work.
When I worked with a large ecommerce company we were a marketing company ourselves, but we often worked with agencies and vendors – really smart people that helped us grow.
Something these companies needed to do, though, was grow themselves.
In our work at GBW we see that blogging can help companies of all types grow by finding new customers including marketing agencies.
Use the strategy above to start your blogging today.
It will bring new people to your website where you can convert them to customers.