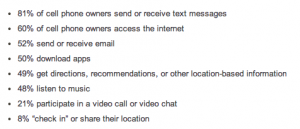 This time of year there are plenty of annual studies to read.
I was reading one on cell phones and cell phone activities from Pew.
There are a number of good stats in there as you can see on the right.
There is also more included in the full report so be sure to click through to check it all out if you haven't already.
One stat stood out to me, though, more than any.
That stat is:
60% of cell phone owners access the Internet
That's a telling statistic.
More than half of the people with cell phones access the Internet. Five years ago this wasn't the case. Not many people accessed even their email with a phone, but smartphones have changed how people use the Internet and it's forcing businesses to change the way they serve online content.
And if your customers skew younger in age then the number is likely higher.
I have three action steps for you based on this stat.
Step #1: Responsive Design
The biggest action step for your company is to get a responsive website.
At GBW, we did this in 2013 and it's been a big help for the business. We continue to get more visitors using their smartphones. Up until last year they would see the old desktop site. It was usable, but not optimized for the mobile experience.
We changed that and made the site faster with a better host. These two things made the site a pleasant experience for smartphones visitors.
Step #2: Create Fresh Content
Creating fresh content has been an online marketing strategy since the beginning of the Internet. And even before the Internet there were companies creating fresh content for whatever the big marketing channels were at the time.
Content is universal. It doesn't lose its luster when the channel changes. Just because people are using smartphones more now doesn't mean that they aren't looking for content.
Continue to create content such as blog posts.
Also repurpose that content. One thing that seems to be more popular especially with smartphones is video.
For businesses, it's hard to get people to read a long blog post, but turn that post into a 5 or 10 minute video and you'll get people to watch on their phones.
Step #3: Market Your Content
Finally, market your content.
Think about the types of things people are using on their smartphones. They're using social media, email and other things of that nature. You need to get your content into those streams.
Social media is important in many ways, but using it to market your content is perhaps the best way for businesses to take advantage.
Use The Snippet Strategy. Use tools like Buffer. Mention those that share your audience.
Give the social site a little bit and entice people to come back to your blog.
Conclusion
The last few years have brought on a boom of smartphone use around the world.
If you're acquiring customers online this means that you have to make some changes. Well, you don't have to make the changes, but people using smartphones will comes to your site and not enjoy the experience. They'll leave and look for an alternative.
So follow the action items above to catch up to how people are using the Internet today and for how they'll use it in the future.