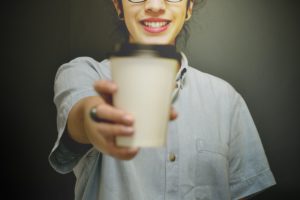 Where does your social media profile link to back on your website?
The one I see most often is the homepage. And that one makes a lot of sense for lots of situations.
After all, the homepage, especially for a business, is usually the page you want new visitors to start on. It's where you work the sales funnel from beginning to end.
But are there other options?
I think there are a few good ones to consider…
#1. About Page
I think the about page is one of the most overlooked on a business website.
Think about meeting a potential customer in person. There are almost always going to be pleasantries and a getting to know each other discussion.
It's the same online and your about page is the page that describes who you are, what you like, what your core values are and things of that nature.
When someone has been following you on social media they likely know a good bit about you, but they still likely want to get to know more about you.
Lead them to your about page before you start pushing them through your sales funnel.
#2. Evergreen Content
Do you have a blog post that has been doing well for years?
Did you create a how-to video that has been a hit for years?
Maybe there is a podcast episode that has been popular for a long time.
A guide.
A book.
This type of content is popular for a a very good reason. It's valuable. People want it.
This type of content is appealing and will bring traffic to your website, but you have to link to it and you can do that with the links in your social profiles.
#3. Introduction Video
This is similar to your about page. And more about pages are including video and I think that's great.
But if you have a video that you recorded and that does a great job of explaining who you are and what you do then you can certainly link to it.
Get the people on your site. Introduce yourself. Give them some valuable content. Then maybe ease them into learning more about what you're selling.
#4. Big Offer
You can really take things to a new level by offering something special for those that follow you on social media.
You're seeing a lot of podcast hosts these days offering 10-20% off with their sponsors as long as the listeners use a special promo code.
It's a way for sponsors to track the success of the sponsorship and in many cases they only pay the podcaster when the code is used.
You can do the same thing and track the success of your social media efforts. You can see how much engagement you're getting on your profile.
If you know your audience well you could even offer them a special product or package of products that you know they will really like.
#5. Your #1 Product
Your bestselling product.
You can skip everything I've said above and skip right to the selling. Don't beat around the bush, though. If you have a hot product then link to it.
I could see this working for a company like Cards Against Humanity. For a company like that I don't really need to know about them or read anything. Just take me to the page where I can quickly by it.
Sometimes it's good to just save some time and get right to the buying.
Conclusion
Don't stick with just the homepage for your social profile links. You can get a little creative and try different links. See what works best by tracking the traffic and sales and engagement. When everybody is doing the same thing (linking to their homepage) trying something different can pay off and make you stand out.