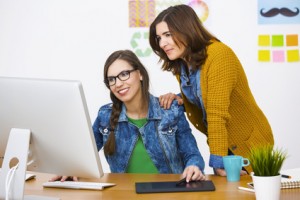 How many times did you promote your last blog post, video, podcast or other piece of content?
You obviously shared it on social media the day it published. You probably shared it twice that day.
You sent it out later that week in your email newsletter. Maybe you emailed a few people in the days that followed alerting them to the piece.
Maybe the next week you shared the piece one more time on Twitter because it was doing pretty good with traffic.
What about after that?
Promoting old content is one of the best ways to build traffic to your website. The content already exists. It's something many people haven't seen yet. It makes sense to promote it.
In the entertainment industry there is a saying that old material keeps the lights on. Sales of old material brings in profit so the companies can keep investing in finding new hits.
That's a good way to look at your blog posts or content.
The trick is figuring out how to promote your old content. Here are some of my favorite ways.
0. Evergreen Content
Before we get into the tips I wanted to start out with a pre-tips tip or a tip #0. When you're creating content it's good to look at what you're creating as being timeless. Obviously that's not always possible to do even if you try since the world will change, but as we all know the world does change in many ways, but in many other ways it remains the same.
I look back at some of the posts I wrote 5, 6 and even 7 years ago and some of them are still as relevant as ever. Some aren't, but more than a few are and I could share them today and I think my target audience would find them valuable.
But when you're creating content or developing your content schedule always have an eye for what's going on now as well as an eye for how the post might be portrayed in a few years.
1. Share More Often
I use Buffer to share posts on social media. It's a great tool. I mix it in with the other things I share on Twitter, which is my main social channel.
One thing I wanted to do a few years ago was post more often. I set a limit of sharing five posts per day. In order to do that I needed to share old posts and quite a few old posts. Putting that minimum requirement on myself forced me to share blog posts over and over again.
I've never heard from anyone that I should stop sharing the same things.
In fact, I should probably start sharing even more often…
2. Share Snippets
One of my favorite strategies is The Snippet Strategy. The idea is that you take little snippets from a post and share them on social media, but you could also do it in email.
For example, this post has a list of ten things. Each of those are little snippets that could be shared on their own. It's a strategy for sharing the same post 10 times with 10 different lead-ins to the link.
3. Turn Blog Posts Into Other Types Of Content
About five years ago I created a series of blog posts on my personal blog, Country Music Life, that listed the saddest country songs of all time. That series of posts continues to be a big traffic funnel for the site, but I took it to a new level by turning that post into different types of content.
I created a slide deck on SlideShare that repurposed the posts. I also created a Spotify playlist using the songs on the list. It's a way to reach a new audience with the same content and bring in more traffic and attention.
4. Create Followup Content
I have to say that one of my guilty pleasures is watching the Honest Trailers series of videos by Screen Junkies on YouTube. Most of them are really funny.
One thing, among many things, that Screen Junkies does is they'll create followup trailers or trailers for sequels to movies and TV shows. And when they do that they'll link back to the original video they did.
This way when new followers see the latest video they can go back and see the previous video.
You can easily do this with blog posts. You can create a followup post to a post you did last year or even a few years ago. Rand Fishkin of Moz does this each year with his SEO predictions. He publishes the predictions at the beginning of the year and does a followup at the end to see how he did.
5. Outreach
This one is pretty broad, but I'll share a couple things I've done and seen and you can take the inspiration from there. I'm sure you can come up with even better ideas for this one.
Something I've done on occasion is subscribe to business newsletter or blog newsletters that curate posts from around the web. I'll see that the ten posts are very good and see an opportunity where a post I've written could have been included in the list. I'll respond to the newsletter and comment on the list and just suggest a couple posts I think would have been a good fit. I don't often get included in the newsletters the next time around, but it has worked and it has led to some traffic to old posts, which is always exciting.
A few times I've written posts and have had people reach out to me via email commenting on the post. They'll say that they've written on the same topic with a few additional or different points in the past. They're just quick emails, but usually I'll check out the posts and sometimes I'll share them.
6. Automated Email For New Subscribers
When a new subscriber signs up for GBW and Country Music Life they get an email with about 3-5 blog posts. I set this up and it works to get some traffic to those old posts. Once in a while I'll update the list of posts, but for the most part this one is just a set it and forget it strategy.
You can do this with your blog newsletter and I've even seen it done on social media especially on LinkedIn. I'll connect with someone and I'll get a direct message thanking me for connecting and offering me a link to a blog post they've written. Not a bad idea.
7. Link To Old Posts
One of the easiest ways to bring new life to old content is to link to old content with your new content. I could do better with this, but I do try to do it with every new post. I try to link to at least one previous post. And we do that for our clients as well.
You can do this in a few ways. You can link within the content. Or you can have a Related Posts section on your posts where people can find more content like the piece they're reading. It's a way to keep them engaged and to get more traffic to your old posts.
8. Find New Partnership Ideas
The NFL came to an interesting agreement recently with YouTube. The NFL let the fans vote on games to be published on YouTube in full. These were all games from the archives.
It was a pretty cool idea and a great way to promote old content, which in this case was NFL game broadcasts. I'm sure this idea could be used for blog posts or for other types of content. I guess it's basically syndication where your content is re-published somewhere else to bring new life to it.
In fact, now that I think about it there is a newspaper that I subscribe to and one of the columns is a collection of articles that were published in another paper decades ago. Golf Digest does the same thing with tips that Jack Nicklaus published in the '70s.
9. Look For Renewed News
I've been a fan of the Green Bay Packers for as long as I can remember. One of the people I follow for Packer news is Michael Rodney. He writes regular posts about interesting Packer topics on his blog. And he's really good at promoting his old posts.
Here is a recent example:
Good read on choosing between Sitton/Lang from @PFF https://t.co/dqQxvHM2Et Pretty much echoes my thoughts from Apr. https://t.co/AYARnSsMWo

— Michael Rodney (@PackersNotes) June 26, 2016
He found an opportunity to re-share an old post he wrote because the topic was brought to light again. It's kind of renewed news.
Michael does this fairly often and it's a good strategy. I missed his post when it first came out and I was happy to learn about it this time. I know he'll be sharing posts from earlier this year as the season progresses and some of his predictions come true.
10. Note Milestones & Anniversaries
You'll see this at the end of the year each year on social media and in email and in other places. Blogs will create the top ten posts from the previous year and share it with their followers on social or wherever they have a following.
It's a good strategy. Many of your followers probably saw your top posts from the previous year, but it's likely that they didn't see them all and it's possible that you've picked up new followers over the year and that they missed the best posts from earlier in the year.
Another way to do it is to promote a post on its anniversary. You can see how it measures up one year, two years or even five years later.
Conclusion