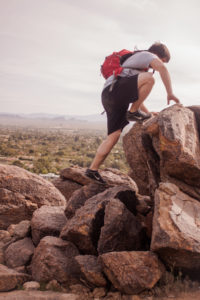 We're in the final quarter of the year.
That's exciting especially if you've been having a good year.
It might be frustrating if you're falling behind on the goals you set for the year.
In both instances there is opportunity. The saying goes that deadlines spur action. When we're pushed up against the wall it's when we finally take action. I don't know if it's just human nature or what, but that's the way it is.
You can use these last few months of the year to make a final push and finish off on a strong note as we head into the next year.
Here are some tips for making a final push this year to boost your traffic and sales.
1. Ask Clients If They Need Help Meeting Annual Goals
To start, your clients might be in the same situation as you. Reach out for a call or just send a quick email asking how they're doing with their goals for the year. See if they're struggling with anything and from the conversation see if you can help in anyway.
Let's say that you manage advertising campaigns for B2Cs. Maybe they're falling a little behind. And you've just started advertising on a new channel. Make a presentation and see if there is an opportunity to boost your sales and theirs over the next few months.
Everybody wants to hit budget and go beyond. If you're a B2B, just ask your clients if they need help meeting goals and see where you can fit in.
2. Ask Clients For Upsell Items For Next Year
Now is the time to see what clients are looking to do for next year. Get them signed on for what they've been doing and also see what else they're struggling with and see if you have any other offerings that would help them.
If the relationship has been successful the past year and if you have a new product or service or an existing one that a client hasn't used yet then see if you can upsell them on it heading into the new year.
Then see if the client wants to pay ahead for the year. Many businesses like to get a charges on the books in December to write off especially if they've had a good year.
3. Increase Content Creation (One Offs, Higher Frequency)
Do you have a content marketing strategy like blogging, ebooks, podcasting, videos or something else?
Now is a great time to boost the frequency. In general, higher frequency usually means more traffic and more sales. If you're feeling a burst of energy to bring in some new leads then content marketing is a good place to focus that energy.
You can increase the number of items on your own site including one offs. Those might include ebooks or webinars or something like that.
You can also go off your site and do more guesting with guest posts or by being a guest on podcasts.
4. Go Back To Initiatives That Were Pushed Off Earlier
Did you have anything on the priority list earlier in the year that hasn't been implemented yet this year?
We all start the year with great ambitions, but as time ticks by we realize that maybe our appetites were bigger than our stomachs and we can't fit everything in.
But during this time of year we usually get a little extra energy to finish strong and if you don't have any ideas go back to that list that you had early in the year and pick up on something that seemed good then, but that you didn't have time for until now.
5. Go Back To Previous Campaigns
Building on the last one is looking at campaigns that worked early in the year, but that you haven't repeated yet.
Maybe you created a piece of content that did really well earlier in the year. Maybe you did an advertising campaign on AdWords that was successful or a contest or something like that.
See if you can do something like that again. Even go back to previous years and see if something has fallen by the wayside and revive it now to boost traffic and sales.
6. Test New Sales Efforts (Keep It Small)
Now is a tricky time to be doing big campaigns that haven't been tested. That could be a new sales effort, advertising campaign or big content marketing effort. Maybe it's even a big sales call push where you blitz people with calls.
Big is risky. In the Good To Great book series one of the findings of successful companies was that they fired bullets first and then fired cannons only when something proved worthwhile.
Now is a good time to do some testing. Try something that you've been wanting to try or something that seems kind of crazy, but it just might work.
Try it on a small scale and see what the results are. It might push sales a bit this year, but it could lead to something really good as you head into the next year.
7. Ask Clients For Referrals
This one is simple. I can be weird to ask for referrals. Most clients will refer you when they have the opportunity. But you can kind of jog their memories with a few questions.
Send out an email or make a few calls and make it laid back. Just say that you always like to ask if they know anyone that is looking for the service you offer at this time of year. Say something like Hey I hate to bother you, but we always like to ask…
That type of thing isn't too off putting and it can lead to a few potential leads.
8. Outreach For Guesting Opportunities
We kind of mentioned this one earlier, but it's worth its own point here in this post.
I find that for Ghost Blog Writers that it's great for business to be a guest on podcasts. It's great to do guest posts. I don't look at it from an SEO perspective too much although it does seem to help that, but I mostly look at it for traffic and exposure.
I like country music. In country music and in other genres artists will start out as opening acts. The tradeoff is that the big star artist brings new artists out to warm up the crowd. And the new artist gets exposure to a fanbase and the opportunity to earn new fans.
That's how guesting works. When you're a guest on a podcast you bring your story and expertise. And in exchange you get the opportunity to win over an audience.
Go to iTunes New & Noteworthy. Look for your industry and I'm sure you'll find a ton of podcasts. Reach out to as many as you can in the next few weeks and line up some interviews over the last few months.
9. Reach Out To Past Clients
Did a client ever leave you in the past because they didn't have the budget or because your contact maybe left the company?
When a client leaves it's not always because they were angry or disappointed with you. If that was the case go back to your past client list and see if you can reach out to any. Businesses often go through down times, but come back strong.
And individuals often change positions and head to new companies. Find them back and see if they'd be interested in hiring you again to do what you do for their new company.
10. Reach Out To Potential Partners
Finally, I love partnership opportunities. It's another way to expand your audience. And in some cases your product might be more appealing when it's paired with a complementary product.
Have you ever been on Amazon and see how they cross promote products? They're really good at it. Companies do the same thing where they find complementary products and make the sales pitch together.
Let's say you sell website design services. Reach out to someone that is a really good copywriter for ecommerce sites or some other niche. See if you can start selling your services as a package. Together it can be a really good offer and bring in new clients that maybe needed both, but didn't know that you worked together with the copywriter.
Conclusion
Hopefully those ideas will help you boost your traffic and sales the next few months. It's always good to have a long-term outlook on ways to increase sales. I think that's the best for running a business, but short-term bursts of energy can help too and it can help boost your team and end things on a good note before building into next year.